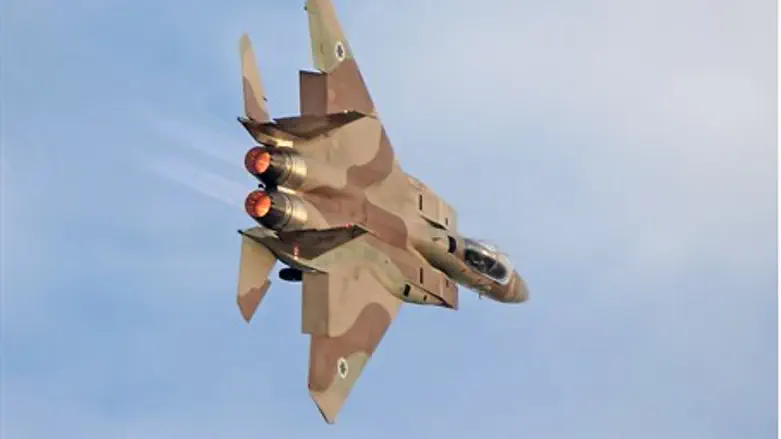 F-15 חקא
Israel news photo: Flash 90
Syria and Iran issued threats to retaliate against Israel for its alleged strike on a chemical weapons facility near Damascus Tuesday night.
In Iran, the government-run PressTV quoted Deputy Foreign Minister Hossein Amir Abdollahian Thursday as saying the raid on Syria will have significant implications for Israel.
He called upon United Nations Secretary General Ban Ki-Moon to take operative steps against Israel following the attack, and suggested to the Israeli leadership "not to place too much trust on the Patriot batteries that are stationed in the area."
Syria is issuing even more explicit threats. Syria's Ambassador in Lebanon, Ali Abdul-Karim Ali, told Hizbullah's al-Ahd news website that Damascus ''has the option and the capacity to surprise in retaliation.''
He said that he cannot predict when the response will occur, and said that the authorized elements will take care of preparations for it.
U.S. officials confirmed that Israel launched a rare airstrike inside Syria on Wednesday.
Hizbullah condemned the attack as ''barbaric aggression'' and Syrian ally Russia said it appeared to be an unprovoked attack on a sovereign nation.
Hizbullah said it ''expresses full solidarity with Syria's command, army and people.'' There have been reports that the target was a convoy believed to be carrying anti-aircraft weapons bound for Hizbullah, but Hizbullah did not mention any convoy in the statement. It said the strike aimed to prevent Arab and Muslim forces from developing their military capabilities.
The Syrian military denied the existence of any weapons shipment and said the target was a scientific research facility in the area of Jamraya, northwest of Damascus and about 15 kilometers from the Lebanese border.
Iran's Foreign Minister Ali Akbar Salehi condemned the airstrike on state television, calling it a clear violation of Syria's sovereignty.
Russia said Moscow is taking ''urgent measures to clarify the situation in all its details.''
''If this information is confirmed, we have a case of unprovoked attacks on targets in the territory of a sovereign state, which grossly violates the U.N. Charter and is unacceptable,'' Russia's Foreign Ministry said in a statement. ''Whatever the motives, this is not justified.''
Iran's foreign minister on Thursday condemned what he termed Israel's "brutal aggression" against Syria.
"There is no doubt that this aggression is part of a Western and Zionist strategy to push aside the success of the Syrian people and government to return to stability and security," Ali Akbar Salehi said in a statement, as quoted by AFP.
It underscores the "alignment of terrorist groups with the Zionists' objectives," he added, using the Syrian regime's stock word for describing rebels fighting to oust President Bashar al-Assad.
On Wednesday, the Syrian army accused Israel of launching a strike on a military research center at Jamraya, near Damascus. Syrian rebels disputed the claim, taking responsibility for the attack
Iran is Syria's principal ally, along with Russia and China, and accuses Western states and certain Arab countries of arming the rebels.
Israeli officials and the military refused on Thursday to confirm or deny any involvement in the alleged attack and had no comment on reports that it had struck a weapons convoy along the Syria-Lebanon border.
The convoy reportedly held weapons destined for Hizbullah. There have been speculations that the strike came as a warning to Demascus not to arm the Lebanese terror group.
According to a report in The New York Times late on Wednesday, Israel had informed the United States of its plans to attack the target prior to launching the airstrike.
One official, speaking on condition of anonymity, told the Times that the convoy was transporting SA-17 antiaircraft weapons that could obstruct Israel's ability to fly reconnaissance flights over Lebanon.