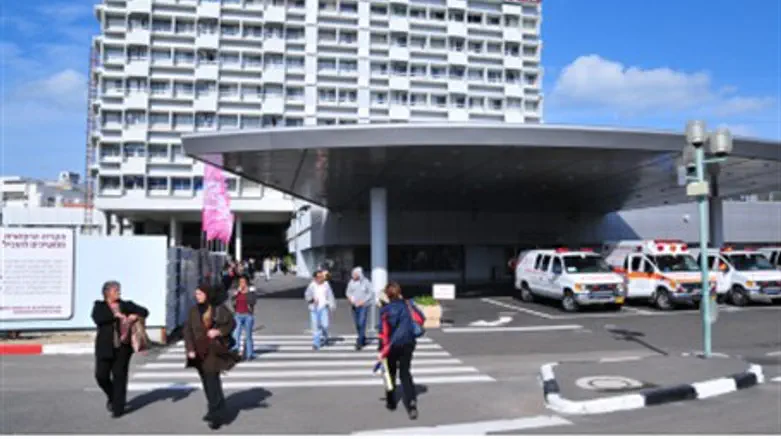 Rambam Hospital
Israel news photo: Flash 90
Two more people have been admitted to a hospital in Israel due to the severity of symptoms from the H1N1 virus, also known as "swine flu." A man in his 50s and a four-year-old girl both contracted the virus and were admitted to Barzilai Medical Center in Ashkelon on Thursday, a spokesperson said. 
The man is being treated in the respiratory intensive care unit, and the child is in care in the pediatric intensive care unit. Hospital authorities said, however, that the two cases were unrelated.  Both patients are listed in stable condition, the spokesperson said.
Four Israelis are currently hospitalized in critical condition as a result of the disease. They include a 32-year-old man at Soroka Medical Center in Be'er Sheva, a 50-year-old man at Haifa's Rambam Hospital, an 83-year-old woman and a 75-year-old man, both at Tel Aviv's Ichilov Hospital. Three of the four are patients who have chronic illnesses. 
On Monday, a 28-year-old woman died of the disease at Soroka Hospital. The patient had arrived at the medical center in critical condition, and after persistent resuscitation attempts, medical personnel were forced to declare her death. She, too, had not received vaccination against the disease. 
A three-year-old boy died of the disease two weeks ago at Schneider Children's Hospital in Petach Tikvah. The child had not received the flu vaccine, according to the medical report.
Health Ministry officials urged members of the Israeli public to go to their local kupat holim (HMO) clinics and get a flu vaccination against the disease if they have not already done so. The Leumit health care system announced earlier in the week it had 11,000 units on standby ready to administer.
Landiado Hospital, also known as Sanz Medical Center, this week reported it was forced to transform its cafeteria into a makeshift ward with patient beds, as the hospital's census soared to more than 55 percent over full capacity. 
Both Rambam Medical Center and Bnei Zion Hospital in Haifa reported that they, too, were at full capacity and were diverting patients internally from one department to the next as they struggled to care for the rising numbers of patients with the H1N1 virus who were arriving at their emergency rooms.
Children, the elderly, pregnant women, and patients who suffer with chronic illnesses are considered at higher risk of contracting the virus.
The virus was originally called "swine flu" because the disease was similar to one found in pigs. It is spread from one person to the next through respiratory droplets, with symptoms typically lasting four to six days. Symptoms include a low-grade fever (38 C or 100 F) that may climb higher (not everyone becomes fevered, however), as well as a cough and/or sore throat. Also among the symptoms are a runny or stuffy nose, headaches and/or body aches, chills, fatigue and nausea, vomiting and/or diarrhea (most common in children.)