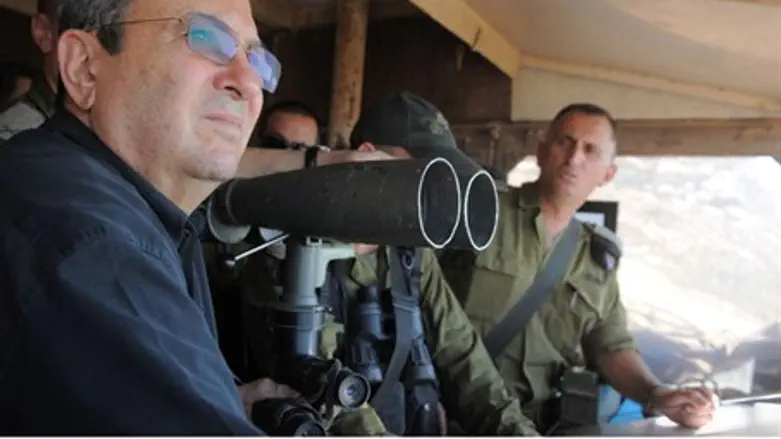 Defense Minister Ehud Barak
Flash 90
A new report conducted by Transparency International, a UK-based watchdog part of the Global Corruption Report, has placed Israel among the countries most susceptible to corruption in the defense sector.
The report, which ranked 82 countries based on a range of indexes including political, financial and personnel factors, ranked Israel alongside Lebanon, citing that the Defense Ministry's huge budget and lack of transparency make corruption possible. 
The report said that the Knesset has little influence over defense policies and that the Ministry of Defense is reluctant to fully cooperate with oversight committees.   
"The Defense Ministry can't be as transparent as any other ministry because were dealing with security and operational issues and of course secrecy should be maintained," Dr. Yaacov Lifshitz, former director general of the Israel Ministry of Finance and former chief economist of the Israel Ministry of Defense, told Arutz Sheva.
"Within the Defense Ministry, the budget is transparent -- those who have to know do know," he added. 
The report also noted that, "public debate on issues of defense is rare," citing the current debate on a possible military attack on Iranian nuclear facilities as contrary to the trend. 
Yet according to Lifshitz, the constant security threats to Israel and the level of secrecy that must be maintained make public debate and even debate within the Knesset difficult. 
"Do they want every military operation to be discussed in the public? If we add another Iron Dome, is this something that should be discussed in the public? Or investments in developing new weapons systems, should this be a public debate?" asked Lifshitz. 
"Of course if you compare israel with the U.S., in the U.S. there's a tradition that everything is in the public and you can have debates on defense issues. This, I believe, does not fit in with our situation. For us, it would be more disadvantageous than advantageous," he added. 
"It's not black and white. There should be some public debate, but it depends on what," said Lifshitz.
Lifshitz added that the constitution in Israel differs from other countries in that the Knesset does not decide on military operations and that these issues are left up to committees instead. 
"According to the constitution you don't need Knesset approval for initiating a military operation," said Lifshitz. "Not to say these things are decided by one person, but they're simply not discussed in public."