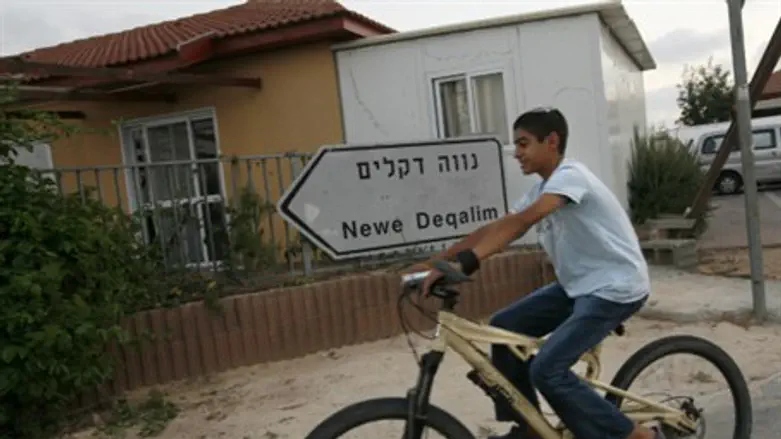 The caravan city of Nitzan
Flash 90
165 families who reside in the caravan site in Nitzan were given urgent evacuation orders to leave their homes, Ma'ariv reported on Tuesday. 
According to the report, the families, who took up residence in Nitzan after being kicked out of their homes in Gush Katif, were ordered to pay rent to the government on the caravans but many were unable to or simply refused, citing poor living conditions and a feeling of frustration towards the government over the realty that seven years after the forced "Disengagement" from Gaza many of their lives are still in fragments. 
Officials in the Tenufa Administration, tasked with resettling those who were expelled from Gaza, recently gave eviction orders to residents to leave their homes within 45 days.
According to the report, the State reasoned that within a certain time frame all residents would have to buy a plot of land on a new community established on the coast of Ashkelon and either bring their caravan there or build a home. 
However, many families cannot afford to buy land or build a house, as many are still in financial distress over losing their jobs, businesses and homes during the Disengagement. 
Other families, who wanted to finance the move by transferring the caravans to the permanent community, did not meet the State's conditions.
Families who managed to finance the purchase of land and have begun building homes and wish to remain in the caravan site until construction is complete will have to pay heavy fines and, even so, will only be allowed to remain in the site for another three months.
Tenufa responded to the eviction by claiming that it has repeatedly taken into account the delicate situation of the families but that the State would not be able to comply any longer. 
"The vast majority of residents already live in permanent homes or are in the construction process," the Administration stated. "Those who received eviction notices from the state and for various reasons have not yet started building their homes, will be asked to pay rent in order to arrange the continuing existence of the residential mobile homes. It should be emphasized that the management repeatedly extended offers on families exempting them from paying rent, but now, following the government decision, families are required to follow these orders."
As of January 1st 2013, residents of the caravan site were ordered to pay rent to the government to the tune of NIS 1,400 for a 60 meter caravan and NIS 2,400 for a 90 meter caravan.