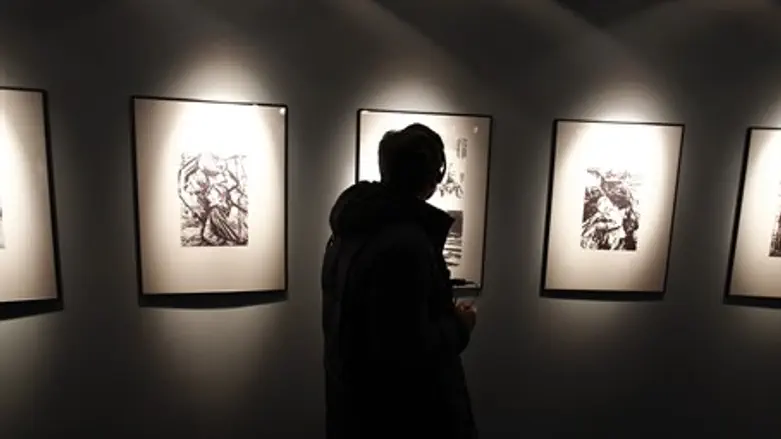 Visitor passes through a newly-opened Russian
Reuters
Russia on Sunday unveiled an exhibition honoring its soldiers at the Auschwitz-Birkenau museum, site of the former Nazi German death camp in southern Poland, on the anniversary of the camp's liberation, AFP reports.
The unveiling, which marked 68 years to the day since the Soviet Red Army liberated the camp in 1945, was attended by Russian Culture Minister Vladimir Medinsky and parliament speaker Sergei Naryshkin.
Russia is among several countries that have national exhibitions at the site, including Belgium, the Czech Republic, France, Hungary and Slovakia.
The display traces the fate of the Russian soldiers who died at the camp, as well as of those who liberated it.
"Between 15,000 and 16,000 Soviet soldiers died in Auschwitz," museum director Piotr Cywinski told AFP.
In 2005, the museum scrapped a previous Russian exhibition because of diverging historical accounts from Moscow and Warsaw regarding the nationality of certain victims.
"From the beginning, I was convinced that the site needed a Russian exhibition, just as I was convinced that the discrepancies from the 2005 exhibition needed to be corrected," Cywinski said, according to AFP.
More than one million people, mostly European Jews, perished at Auschwitz-Birkenau, operated by Nazi Germany in Poland from 1940 to 1945.
Among the camp's other victims were tens of thousands of non-Jewish Poles, Soviet prisoners of war, gypsies and anti-Nazi resistance fighters from across Europe.
The exhibition was unveiled as International Holocaust Day was marked in countries around the world. On Saturday, Chancellor Angela Merkel said that Germany has "an everlasting responsibility" for the crimes committed by the Nazis.
"Naturally, we have an everlasting responsibility for the crimes of national-socialism, for the victims of World War II, and above all, for the Holocaust," Merkel said in a podcast on her website.
In his opening remarks at the start of the regular weekly Sunday Cabinet meeting, Prime Minister Binyamin Netanyahu connected the current threat to Israel to that faced by the Jews who were nearly wiped out by the Nazis during World War II.
"In the perspective of the almost 75 years that have passed since the Holocaust, what has not changed is the desire to annihilate the Jews," Netanyahu noted. "What has changed is the ability of the Jews to defend themselves.
A report on anti-Semitic trends in 2012 that was prepared by the Ministry of Information and Diaspora ahead of International Holocaust Day indicates that in the past year there has been "an alarming rise in the number of terrorist attacks and attempted attacks against Jewish targets and an escalation in violent incidents against Jews throughout the world."