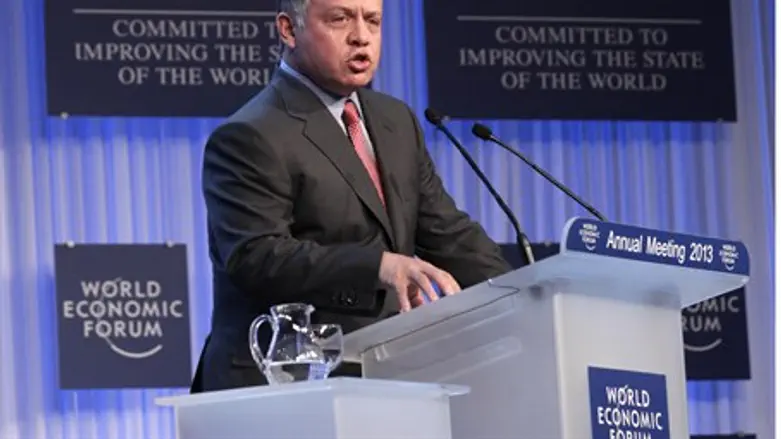 Jordan's King Abdullah at the annual meeting
Reuters
The door is closing on the chances of a two-state solution to the conflict between Israel and the Palestinian Authority and will be firmly shut by the end of U.S. President Barack Obama's second term, Jordan's King Abdullah II warned on Friday.
"If we're not too late, the two-state solution will only survive as long as President Obama's term. If we don't fix it in the next four years, I don't believe it will ever happen," AFP quoted King Abdullah as having told political and business leaders gathered in Davos, Switzerland.
"Jordan with some Arab countries, and with three leaders in Europe -- the British, the French and Germans -- are all marching towards Washington in February and March to say 'Mr. President, it's time to really engage in the Israeli-Palestinian process'," the king said, according to AFP.
He predicted that Prime Minister Binyamin Netanyahu, who is preparing to form a coalition government after this week's election, will come under pressure to make progress in the peace process.
"Whatever he does to form his coalition, he's got to keep in mind that the international community... is going to be knocking on his door and that of the Palestinians to move the process forward," the king said.
Direct talks between Israel and the PA have been stalled for over two years, as PA Chairman Mahmoud Abbas has refused to come to the negotiating table, choosing instead to impose preconditions on talks.
Abbas has insisted that Israel accept the pre-1967 lines as final borders and has demanded that Israel release all Arab terrorists from its jails, and halt construction in Judea, Samaria and east Jerusalem for a second time before talks begin.
On Friday, King Abdullah also met with President Shimon Peres on the sidelines of the World Economic Forum in Davos. A statement from Peres's office said that "the two held a working meeting at which they discussed ways to advance the peace process in the region."
At his confirmation hearing as the next U.S. secretary of state on Thursday, Senator John Kerry said he believed there was "a way forward" in the peace process and that time was running out for a two-state solution.
Last year, Jordan hosted talks between Israeli government negotiator Yitzchak Molcho and chief PA negotiator Saeb Erekat, but the two sides made no progress.
Earlier this month, King Abdullah told a delegation of the American Israel Public Affairs Committee (AIPAC) that the stalemate in peace efforts between Israel and the PA and failure to revive the process would add to tensions in the Middle East and plunge the region into the unknown.
(Arutz Sheva's North American Desk is keeping you updated until the start of Shabbat in New York. The time posted automatically on all Arutz Sheva articles, however, is Israeli time.)