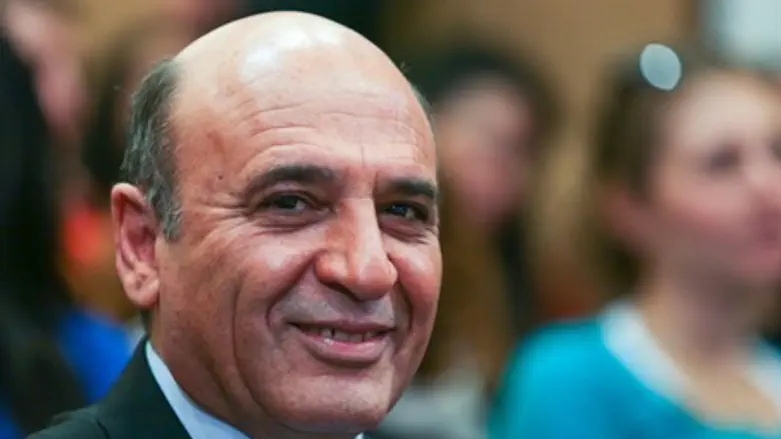 Kadima chairman Shaul Mofaz
Flash 90
Kadima chairman Shaul Mofaz, whose party managed to enter the Knesset by the skin of its teeth, touted his achievement as a victory on Thursday.
Kadima was the largest party in the outgoing Knesset with 28 seats and just barely managed to pass the electoral threshold this time around. It will have only two Knesset members in the 19th Knesset: Mofaz and Yisrael Hasson, one of only a few Kadima members who chose to run with the party instead of quitting politics or joining another party.
Despite his party's near fatal crash, however, Mofaz said at press conference on Thursday evening, "We did it. Even with two seats, we're going to do the best for Israel - and work hard. From here we need to grow, grow and grow - and it depends on how hard we work for the State of Israel and its citizens."
It is believed that Mofaz plans to enter the coalition led by Prime Minister Binyamin Netanyahu, since a party with just two MKs will not be able to achieve much in the opposition. Though he did not directly say whether he planned to join the coalition, Mofaz did point out Kadima's central principles: equal burden (an Israeli expression alluding to IDF and national service), changing the Israeli government system, and improving the living conditions of the middle class.
These principles are the same ones that have been touted by Yair Lapid of the Yesh Atid party, which made an unexpected achievement and will be the second largest party in the Knesset.
"As a party which represents the center, we are in favor of promoting these principles and also want to promote the peace process," said Mofaz. "We call on Netanyahu, who will likely head the next government, to raise these flags which we represent."
Mofaz said that Netanyahu had called him on Thursday to congratulate him for passing the threshold.
"I told him it that this is an opportunity to apply our principles," said Mofaz. "There was one opportunity that was not exhausted, and now there is another chance. Netanyahu must move toward the Israeli center."
Mofaz took over the party's leadership after defeating former party chairwoman Tzipi Livni. Livni, who managed to win 28 seats in the 2009 elections,  failed to put together a majority coalition and then refused to join Netanyahu's government.
Her lack of ideas and one-item agenda of attacking Netanyahu on every issue did not improve her standing, and she lost the Kadima leadership election to Mofaz. Livni resigned from the Knesset following her loss, but returned before the elections to form a new party, Hatnua, that only achieved six seats. She took several Kadima members with her, but only one - Meir Sheetrit - will be in the next Knesset.
Mofaz briefly entered Netanyahu's coalition and quit ten weeks later after he failed to lead a move that would see hareidim being drafted into the army.
Meanwhile, a report on Channel 2 News on Thursday indicated that Mofaz is formulating a plan to present to Lapid, which would see the two factions merge.
Mofaz has his eyes on the defense portfolio, which he held between November 2002 and May 2006, the report said. If that part of the plan works out, Mofaz plans to quit the Knesset for the post, to make way for his Kadima running mate Yohanan Plesner to lead the struggle for equality in burden of national service.
Plesner, who was placed in the number three spot on the Kadima list, headed a committee that was on the verge of proposing a revolutionary change in the draft law to include virtually all Jews who previously were deferred from serving in the IDF in order to continue studying Torah.
The committee fell apart when representatives of several parties resigned over its conclusions, and Netanyahu officially dissolved the panel. This ultimately led to Kadima's quitting the government.