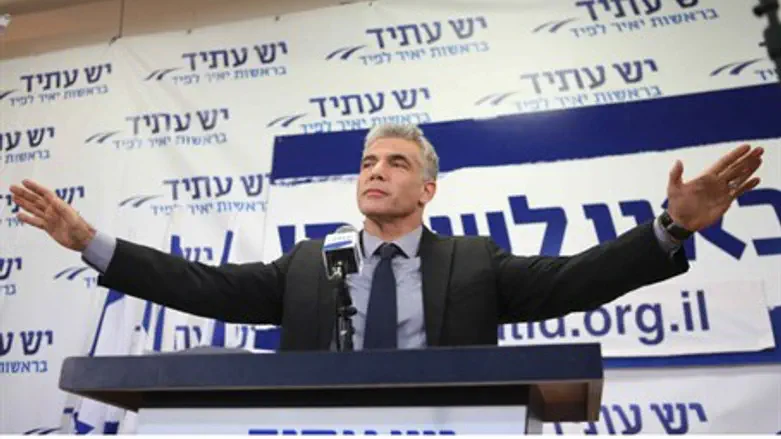 Yair Lapid
Flash 90
Prime Minister Binyamin Netanyahu has phoned Bayit Yehudi chairman Naftali Bennett and spoken to him. The two exchanged congratulations on their respective achievements in the elections.
However, the timing of the phone call is significant. Netanyahu was quick to call the heads of hareidi-religious parties Shas and United Torah Judaism, as well as Yesh Atid chairman Yair Lapid, once exit poll results were known Tuesday evening. By early Thursday afternoon, he had already met with Lapid. Yet he procrastinated in calling Bennett until Thursday afternoon.
The delay is widely seen as significant, since the order in which negotiations take place with parties determines which party will join the coalition first, and receive the "juiciest" portfolios, and which is "left out to dry."
The delay may also be due to the fact that Bennett has already said that he will recommend Netanyahu for Prime Minister, while the other parties left the decision open.
Netanyahu's strained relations with Bennett are an open secret, although Bennett denies it.  According to persistent accounts, Bennett left his job as Netanyahu's chief of staff because he did not get along with Sarah Netanyahu, who is said by the media - mainly anti-Netanyahu Ben Caspit -  to be a dominant force in Netanyahu's decision making apparatus.
Besides the personal history between the two, Netanyahu may prefer to form a coalition without Bennett because he thinks Bennett's hard line on Judea and Samaria will make it more difficult for him to get along with U.S. President Barack Obama.
Despite all of this, however, a coalition without Bayit Yehudi is seen as unlikely. In terms of their basic platform and core constituency – which is nationalist and traditional – the two parties are very close.
Netanyahu met Lapid early Thursday afternoon, in his official residence in Jerusalem. The two spoke for 2.5 hours and the prime minister's bureau said the atmosphere was a very good one.
They reportedly discussed "the challenges standing before the country and ways of dealing with them, and agreed to meet again soon."