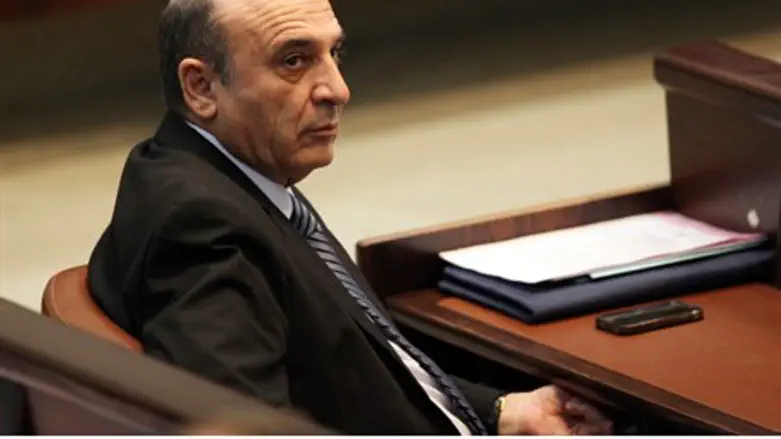 Shaul Mofaz
Flash 90
Kadima, the largest party in the 18th Knesset, is not out just yet. A tally of the votes of Tuesday's election has found that the party has passed the electoral threshold and will have two seats in the 19th Knesset.
In addition to Kadima's two seats, a count of 80% of the votes, reported shortly after 3 a.m., found the following distribution of seats:
Likud-Beytenu 31
Yesh Atid 19
Labor 15
Shas 11
Bayit Yehudi (Jewish Home) 11
United Torah Judaism 7
Hatnua 7
Meretz 6
Ra'am-Ta'al 4
Hadash 4
Balad 2
Kadima's two seats will keep its chairman Shaul Mofaz as well as MK Yisrael Hasson in the Knesset. A poll released a week before the elections predicted three seats for Kadima, which would have also kept MK Yohanan Plesner in the Knesset.
In 2009, Kadima achieved 28 seats under the leadership of Tzipi Livni, making it the largest party in the Knesset.
Livni failed to put together a majority coalition and then refused to join the coalition led by Prime Minister Binyamin Netanyahu.
Her lack of ideas and one-item agenda of attacking Netanyahu on every issue did not improve her standing, and she lost the Kadima leadership election to Mofaz, who led the party into oblivion. Livni resigned from the Knesset but returned before the elections to form Hatnua.
Mofaz briefly entered Netanyahu's coalition and quit ten weeks later after he failed to lead a move that would see hareidim being drafted into the army.
Mofaz's zigzagging (he joined Netanyahu's government after vowing never to do so and even calling Netanyahu a liar) did not help his standing either and the party declined in the polls.
With Kadima having two seats in the next Knesset, it remains to be seen whether Mofaz decides to join the coalition or remain in the opposition. Prime Minister Binyamin Netanyahu said during a victory speech Tuesday night that promoting equal sharing of the burden would be one of the major principles of his new government. This may encourage Mofaz to join.