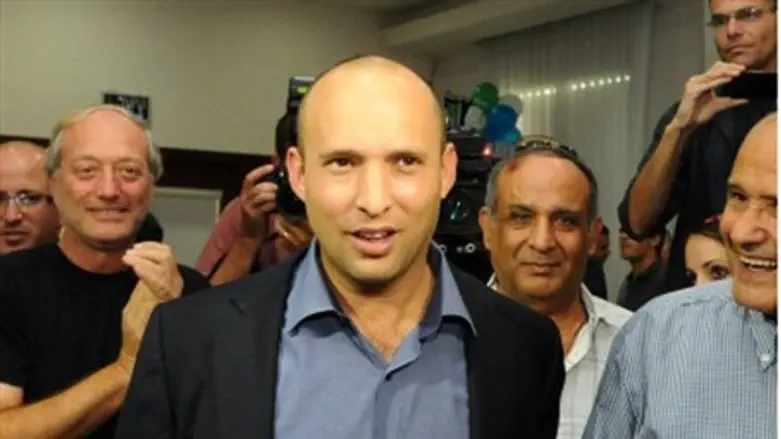 Naftali Bennett
Israel news photo: Flash 90
The Bayit Yehudi (Jewish Home) party did roughly as well as predicted in Tuesday's elections, earning 12 seats according to exit polls. The outcome means a huge boost compared to the party's current status with 7 MKs in Knesset of whom 3 were Bayit Yehudi and 4 were Ichud Leumi.
"Something new is beginning," declared party head Naftali Bennett, repeating his campaign slogan. "Religious Zionism is back on center stage."
MK Uri Ariel exulted over the results. "There hasn't been an achievement like this before" for religious Zionism, he declared.
"We hope to continue from here and to help the nation of Israel and the state of Israel," he said.
MK-to-be Zevulun Kalfa, seventh on the party list, said, "I am sure that the Jewish Home party will 'deliver the goods' to the citizens of Israel… With G-d's help, we will be effective partners in the next coalition."
Final results may be influenced by IDF soldiers' votes, he noted. Soldiers' votes traditionally tend toward the political right.
Israel Votes, You Watch. Live from Jerusalem, watch the Arutz Sheva election special sponsored by the Orthodox Union OU Israel Center today, Tuesday January 22nd from 9:00PM until 2:00AM Israel time / 2:00PM - 7:00PM Eastern Standard Time. Your phone calls will be taken. To watch click here: /Special/ElectionsBroadcast.aspx