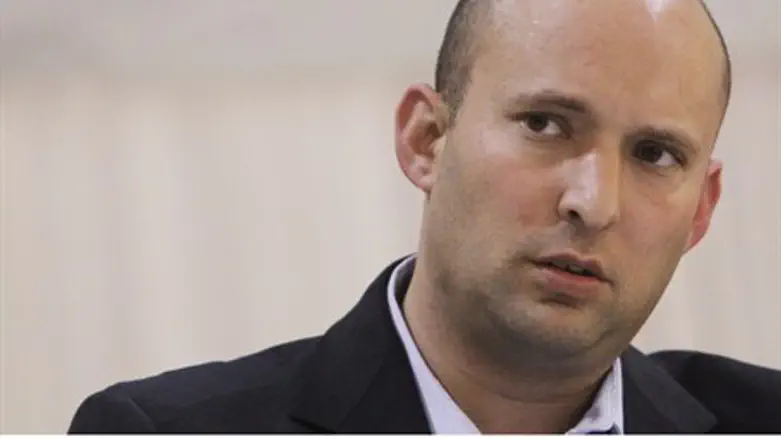 Naftali Bennett
Israel news photo: Flash 90
Bayit Yehudi (Jewish Home) Chairman Naftali Bennett has responded to a flurry of attacks from nearly all parties, saying "We must be doing something right if everyone has to attack us."
The remark came following a storm of attack ads and comments from nearly every political party.
The attacks are also coming from the giant Likud-Beyteynu merger led by Prime Minister Binyamin Netanyahu, who said in response to a recent implication that Bennett may soon demand a strong ministry portfolio that would give him influence on coalition decisions: "Everyone knows it takes two steady hands on a steering wheel to drive; a third hand destabilizes the situation and can overturn the vehicle." 
The remark may have stemmed from Netanyahu's discomfort at the prospect of having to include the upstart Bayit Yehudi – which is clearly growing in strength. The party now appears to be vying with Labor and may become the second-largest party  in Tuesday's elections.  Bennett once held a position as Netanyahu's chief of staff, a job he did not hold for very long reportedly due to his ambitious nature and Netanyahu's inability to cope with a man who was unwilling to simply content himself with being a 'gofer.'
Netanyahu also attempted to imply that Bayit Yehudi excludes women – despite the fact that three women are among the first 12 candidates on its list, and only one woman is among the first dozen Likud candidates.
On Saturday night, the venerable Rabbi Ovadia Yosef, spiritual leader of the hareidi-religious Sephardic Shas party also attacked Bayit Yehudi, which is a more centrist religious party. Shas has been losing ground in the current elections, a cause for concern in the battle over which portfolios – if any – it will be able to insist holding on in the new coalition. 
Rabbi Yosef, who recently suffered a mild stroke, questioned the Torah status of Bayit Yehudi during his weekly Torah lesson after the Sabbath. 
"These are religious people?" he queried? "They come to uproot the Torah," he declared. "Those who elect them deny the Torah – this is the Jewish Home? This is the Jewish Home of the Gentiles!" he declared.  The attack was ostensibly prompted by a remark made by Jewish Home candidate Ayelet Shaked – a traditional but not observant Jewish woman – who said she supports making civil marriage available in Israel. 
Jewish Home's statement in response to the rabbi's harsh accusation offered respect, saying "Rabbi Ovadia Yosef is an important spiritual leader of many communities in Israel, and we revere and respect him."
Meanwhile, Tzipi Livni's 'HaTnuah' party has just filed a motion with the Elections Committee to disqualify one of the party's candidates – Jeremy Gimpel – for a remark taken out of context regarding the Dome of the Rock.
In his motion, MK Yoel Hasson claimed that "the delusional and moostruck list" fielded by the Bayit Yehudi "aspires to set the Middle East on fire and start World War III." 
The remark to which Hasson referred was made during a speaking engagement by Gimpel to a Christian group about the Book of Ezra, about a story that happened more than 2,000 years ago, the candidate told Arutz Sheva on Saturday night.
Bennett noted that most of the political attacks against his party are made in the media on Friday nights, when it is known he cannot respond because he is Sabbath observant.