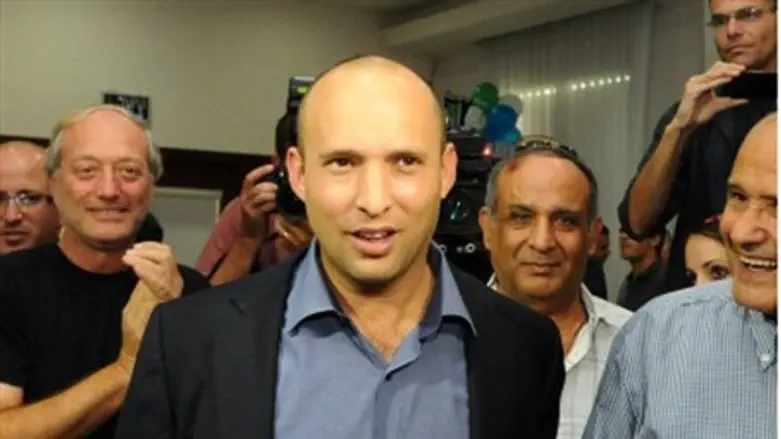 Naftali Bennett
Israel news photo: Flash 90
Jewish Home Chairman Naftali Bennett responded Thursday morning to reports that the man who assassinated Prime Minister Yitzhak Rabin intends to vote for his party and is encouraging others to do so as well.
The mother of Yigal Amir, a Jewish rightwing extremist serving a life sentence for the 1995 assassination of Rabin, spoke to Israel's Army Radio, and said she was not planning to vote in the January 22 elections, but that her son had made his preference clear.
"I know that he's leaning towards Bennett and that he is trying to convince other members of the family to vote for him," she said.
In Israel, prisoners have the right to vote, although it was not clear if Yigal Amir planned to cast a ballot or had simply announced his backing for Bennett's faction.
In an interview with Army Radio, Bennett said the report was simply an attempt to intimidate voters and bears no value to the issues at hand.
"This is an obsessive preoccupation and it is honestly irrelevant," Bennett said, adding that the real, difficult issues that must be dealt with in the government and addressed during the elections are being ignored for unsubstantial fodder.
"The main issues are national security and finances, not this nonsense," said Bennett.
"This is an attempt to get voters to say 'Wow, if the killer is voting for this party, I won't vote,'" said Bennett.
Tzipi Livni was quick to comment on the news of the endorsement, saying, "The idea that someone who tried to kill democracy in Israel and who assassinated a prime minister recommends voting for Jewish Home should make everyone who considered voting for Bennett tremble as they enter the voting booth."