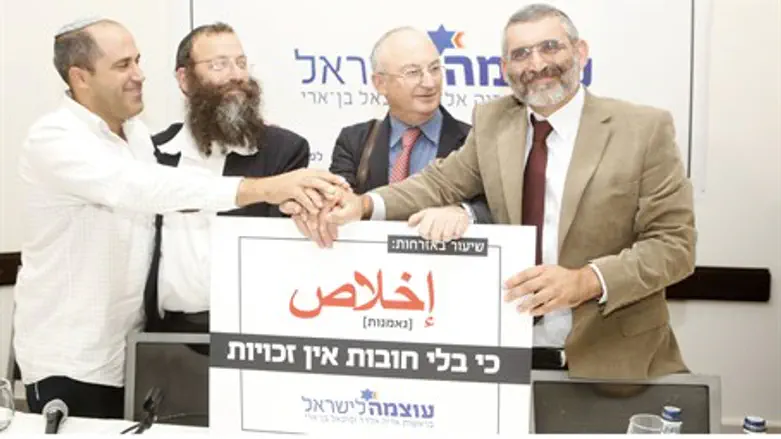 Otzma LeYisrael members
Flash 90
The Israel Police approved on Sunday a request by members of the Otzma LeYisrael party to visit the Arab village of Musmus in Wadi Ara.
Two weeks ago, the heads of the party asked the police to be allowed to hold the event under the party's slogan, "Without duties, there are no rights."
The police approved the request but will not allow the Otzma LeYisrael party members to assemble in the center of the village.
The visit to Musmus is part of the Otzma Leyisrael plan to create a report on illegal construction in Arab communities.
Ever since the Sasson Report, which investigated illegal construction in Jewish communities east of the 1949 armistice line, the Israeli government has focused its fight against illegal construction on Israeli communities, party leaders said several weeks ago.
During the visit to Musmus, which is scheduled for Tuesday, party members MK Michael Ben-Ari, Baruch Marzel, Aryeh King and Itamar Ben-Gvir plan to wave signs with the party's slogan. They will be equipped with maps of the village's master construction plan.
"This is the message we have been talking about throughout the campaign," Ben-Ari said on Sunday. "It it is inconceivable that entire cities and villages, especially in the Negev and Galilee, conduct themselves as if they are a separate country."
"Whoever wants rights must pay property taxes, must build legally and must be faithful to the State of Israel," he added. "Just like we have the Sasson Report on the outposts in Judea and Samaria, there must be a report on the illegal Arab construction in the Negev and the Galilee."