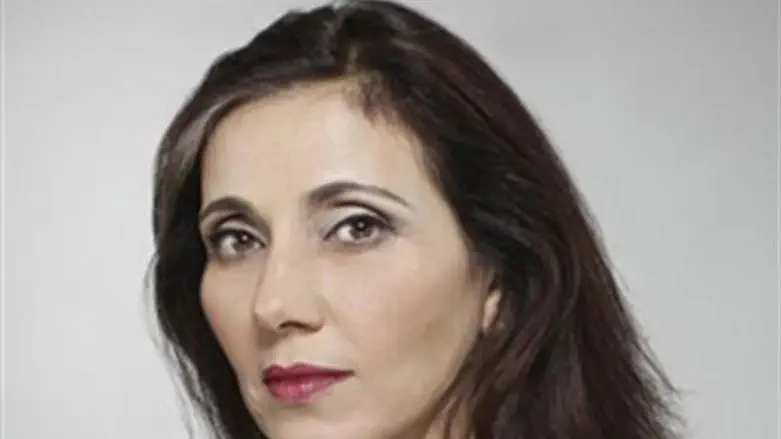 Yulia Shamalov-Berkovich
Knesset Photo
Two Jewish-American brothers are the founders of the Calcala political party which is running in the upcoming Knesset elections. Calcala means economy in Hebrew, and the party hopes to bring a mix of old-fashion American-know-how and Israeli start-up ingenuity to the political scene.
The party is headed by Member of Knesset Yulia Shamalov-Berkovich, who entered the Knesset in 2009 as a member of Kadima. She, as well as party founders Benny and Daniel Goldstein, spoke to Arutz Sheva about the party platform.
MK Shamalov-Berkovich was born in Uzbekistan, in the former Soviet Union, to a Jewish-Bukharian family. By contrast, her fellow party leaders' family originates from Long Island, New York, in a traditional Jewish "Young Israel" home.
MK Shamalov-Berkovich made aliyah in the 1970s, as did Danny Goldstein. His younger brother Benny was born in Israel, although the New York accent is still noticeable.
Benny Goldstein, currently a law student, had his first impetus to form the party while sitting in jail. Goldstein said his legal troubles stemmed from his inability to pay child support to his ex-wife.
"Every father wants to give the shirt off his back for his child," Goldstein stated. "But I over-committed. And when I couldn't pay up, that's when the problems started." Goldstein said he was also prevented from visiting with his three children after the separation.
"I am upset at the system, not my ex wife. The system here is so bad. It's been cheaper for me to go to law school then to pay for a lawyer to represent me in family court," Goldstein complained. He is currently in his third year of studies.
After his divorce, he convinced his big brother Danny to help him form Calcala. "It all started from the divorce problem. So many people go through the same issues. I want to make a change. Divorced mothers have issues too."
Other candidates on the Israeli political scene have discussed divorce. Moshe Feiglin, running on the Likud ticket, recently spoke at the annual conference of the Family Lobby. Rabbi Eli Ben Dahan of the Bayit Yehudi-National Union party was Director of the Rabbinical Courts for about 20 years and has also spoken out about unfairness in the realm of child support and custody laws.
MK Shamalov-Berkovich is no stranger to the divorce issue either. In 2011 she introduced the debut screening of the Israeli documentary Father's Rights at the DocAviv film festival.
"Divorced men are discriminated in this country," she told Arutz Sheva. "All children until the age of 6 automatically go to the mother in cases of divorce," she  stated, referring to the Tender Years Clause. "This forces the mother to stay home with the  children even if the father wants to be a part time or full time caregiver."
"On the other hand, there are a lot of women use this law to coerce the father to pay more child support," she related. "They can say 'if you want to see the kids, then give me the apartment.'"
"We have a high divorce rate here. It's bad for the society from an economic point of view. When you divorce, each family now needs two apartments and two cars," she said.
MK Shamalov-Berkovich said that the system is set up so that divorced mothers get tax breaks and supplemental welfare payments. Thus it one may feel it can be more economically viable to get divorced then to stay married.
"I want to make it financially easier to stay married. The government should encourage marriage counseling and sponsor parenting classes. Before they divorce, they need to think long time," the MK stated.
She added that she is in favor of new apartments being marketed toward young couples. She also wants a longer school day. "If school lets out at 4:00 PM, you have to leave work early to pick up your children, or hire a babysitter to watch the children until you arrive home."
Other issues she advocates are the reform of the Bituah Leumi national insurance system which she said acts too frugally in scrutinizing who gets welfare. She also advocated a reform in the way parking tickets are issued, stating that in the city of Holon, there is citywide free parking.
Daniel Goldstein, who represents the Calcala party's number 2 slot, worked in an electrical maintenance in the United States and currently works in building management in Israel. "We want to institute a weekly salary and weekly mortgage instead of monthly," Goldstein stated. "Many in Israel can't finish the month because of the vicious cycle. They deposit their paycheck in the bank and right away they are back in overdraft and the whole month they have to pay interest on the overdraft. They are busy paying 10,000 -- 15,000 shekels a year in interest.
But with weekly salaries like in the United States and other countries, you can decide how much you have for the week and plan better," he explained.
"Also with a mortgage on a house or apartment, you end up paying more per month because of the interest rate. You pay the interest for the four weeks of a month-long period. But if you paid on a weekly basis, the interest goes down gradually, so on a 30 year mortgage, you end up paying less," he stated. Goldstein said he thought the banks charge too much interest in general.
"Another one of our ideas is that first time real estate buyers should pay less tax. When a person buys and then wants to move in, they have to pay extra fees. You pay the builder, and the contractor, and you pay for the value of the apartment and the lawyer's fees and a real estate agent's fee. We want a law for people buying the apartment where they can put that money back into the original mortgage.
As far as terrorism and war, Goldstein says that the problem and solution is economic, just like everything else.
"We have to stop weapons from getting into Gaza. Where are they getting the money for rockets? What banks are transferring money to them? We have to set up a investigative team to find the money trail," he stated, adding that perhaps sanctions could be imposed.
"We have to show the world what the terrorists are like without being afraid of the reaction. Many of them live in castles and build without permits," he stated. "Giving back land is not economical. This is our land. We need to fight terror in a financial way and think outside of the box."
MK Shamalov-Berkovich had an overall positive outlook as well. "When I talk to people about the problems, they say it can be hard to live in Israel, but when I ask them if they want to leave and go live abroad, they always answer no," she related.
"They love Israel and want to stay here no matter what. But you shouldn't have to feel like you have to pay a price to live in your homeland."
"I am Jewish and I want to feel Jewish in a Jewish country," she stated. "We know how to die together, but do we know how to live together? In war time, everyone wants to help each other, but in peace time we fight each other about economic issues. We live in a tough neighborhood with geopolitical problems, but it's still the best country in the world."
The views and opinions expressed are not nessesarily those of Arutz Sheva or its staff. Arutz Sheva does not endorse any particular political party.
Stay tuned for two upcoming election specials. On Thursday, January 17th, Arutz Sheva's Aliyah Fever show and Israel Vibes will host a live streaming video and audio cast featuring interviews with various candidates.
On election day, January 22nd, Arutz Sheva and the Orthodox Union will feature a live streaming video and audio cast from the OU Israel Center in Jerusalem featuring interviews with various candidates.