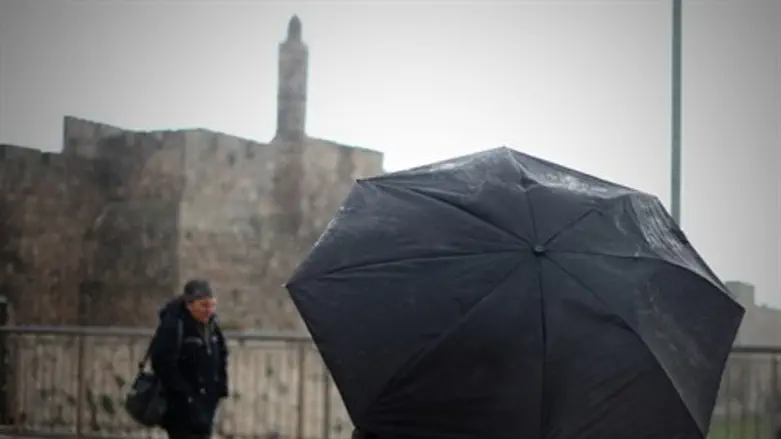 Rain in Jerusalem
Flash 90
The rainstorms that hit Israel from last Friday to this Friday morning are coming to an end for now, weather forecasters say.
Many parts of the country got 200 millimeters (7.87 inches) of rain, and some got 300 (11.8 inches). In the north, the storms brought the level of rainfall to 180-230% of the seasonal average. Central Israel, too, got well over the average amount of rain with a total of 150-200% of the seasonal average.
The level of rain was over average in the Jordan Valley as well. The northern part of the valley got 130-150 millimeters (around 5.5 inches) of rain, while the south got 70 millimeters (2.75 inches).
This is only the fifth time in modern Israeli history that the country has had 6-7 days of straight rain. Six or seven-day storms were previously recorded in the winters of 1964-1965, 1968-1969, 1991-1992, and 1994-1995.
The snowfall Wednesday and Thursday was unusual in its scope as well. It has been almost five years since a similar pattern of snow was seen, and that snowstorm in turn took place five years after the last of its kind.
More than 20 centimeters (7.9 inches) of snow fell in parts of the Golan and the hills of the Gush Etzion region south of Jerusalem. Most of Gush Etzion and Jerusalem got 10-20 centimeters (3.9-7.9 inches) of snow.
Snow was reported in the hills of central Israel and in the northern Negev as well.
See pictures of the aftermath of the heavy rain and snow here and here.