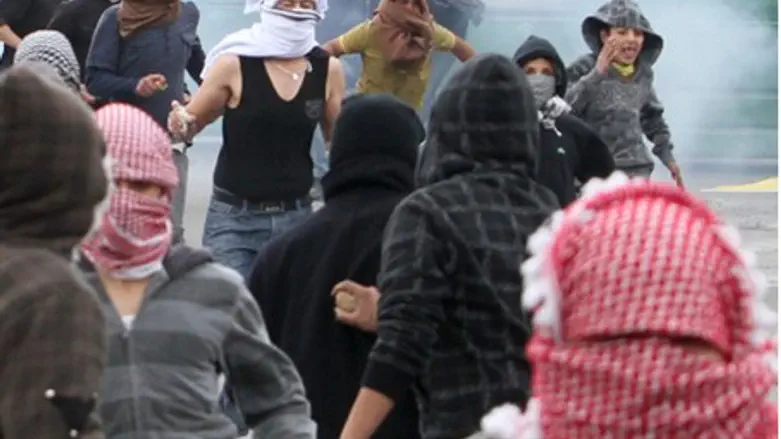 Arab rioters
Flash90
In yet another attempt at demonizing the Jewish state, a Palestinian Authority (PA) mayor announced that the Israel Defense Forces attempts to bait Arab children into picking up explosives "shaped like pens and toys" Palestinian Media Watch(PMW) reported.
Recently asked by a PA TV interviewer what types of explosives Israeli soldiers leave behind following training, Mustafa Fuqaha, mayor of the Palestinian village of Ein Al-Bayda in the Jordan Valley, responded by saying: "Some [explosives] are in different shapes. Some are shaped like pens, and some look like toys."
"Some are in different shapes to tempt children to touch them or pick them up. This is a real danger and real proof that the Israeli army targets children and young ones," he said.
According to the Palestinian Media Watch, PA TV made a similar claim in 2003, when it broadcasted that Israel drops "bombs and mines designed as toys" from jet planes to lure Palestinian children into playing with them.
In 2001, the PA newspaper Al-Hayat Al-Jadida further maintained that Israeli soldiers "threw large quantities of poisoned candies" in front of Palestinian schools.
These are merely a few examples of the PA's systematic program of incitement and spreading libels about Israel that PMW continues to document.