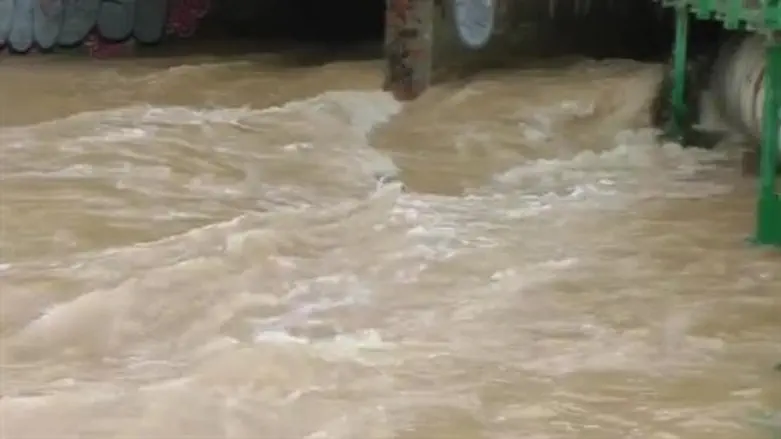 The Motza-Beit Zayit Dam
Hezki Ezra
As the rain continued to pour down without letup and just a few hours before the snow began to fall, Arutz Sheva TV joined the Jerusalemites who came to visit the spot that was planned, in the 1950's, to become the "Jerusalem Lake", retained by a big dam built near the Jerusalem suburb of Motza, below Mevaseret Tzion on one side and the Har Nof neighborhood on the other.
Tzvika Amitai, a resident of Mevaseret Tzion, explained the history of the dam - "The Beit Zayit Dam was built in the 1950's following a decision by Israel's first Prime Minister David Ben Gurion - he wanted to build a dam which would create a permanent lake. The problem, as it was later discovered, is that there is a geological fracture at the site and so the water seeps through the ground, eventually reaching the Dead Sea. There is a new idea these days to take necessary measures to prevent the lake from drying out. There are even some relevant infrastructures nearby".
Every winter the area is filled with water, but this year, as Tzvika explains, is out of the ordinary. "I've been living here in the area for 32 years. I owned the Zmora winery which was unfortunately closed, it was located right above the dam and every winter the potential lake would more or less fill up. But something like this...I don't remember ever seeing. It's astonishing, exciting and interesting".