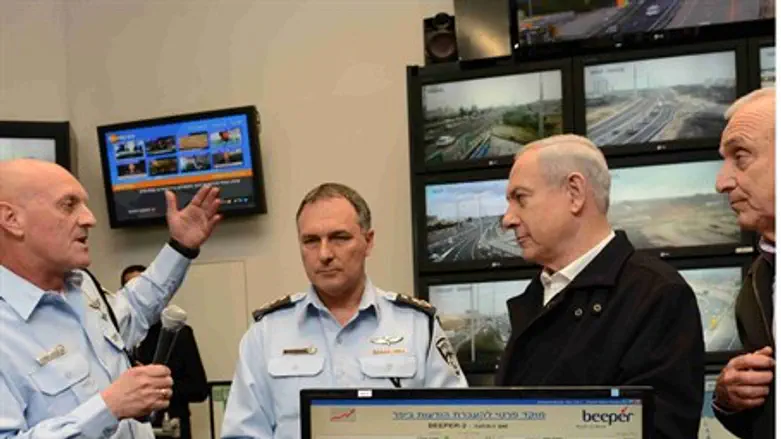 Netanyahu being briefed at Beit Dagan
Israeli Police
Following a hectic few days in which the first major winter storm of the season shut down major roads, highways, schools and businesses due to flooding and resulted in the death of at least five people due to weather-related accidents, Prime Minister Binyamin Netanyahu met with top officials on Wednesday at the National Traffic Department headquarters in Beit Dagan to assess the situation and  make sure that the fierce rain and heavy winds that are predicted to pick up in the coming hours do not cripple the country. 
"I called this meeting to catch up, and I'm glad to see that things are going well and that we have the full cooperation of all parties." Netanyahu said, thanking all those involved from the police department to the IDF to HFC to IEC and the various volunteer medical units throughout the country. 
"We waited many years for this rain," said Netanyahu. "I hope they will remain to be a blessing and won't claim any victims, which is why I call on the public to continue to follow safety instructions and drive carefully. I thank the citizens for their patience. They realize that after the problems are dealt with, we are left with reservoirs full of water, water which we desperately need."
"I appreciate everyone's courageous work in the bitter cold and strong winds. Emergency and rescue forces are working around the clock during the storm to save lives and on behalf of the citizens of Israel, I thank them," he continued, adding that he set up a team to deal with compensation for those affected by the storm. 
Police Commissioner Rav Nitzav Yohanan Danino and Bruno Stein, head of the Israeli Police's traffic division, updated Netanyahu and Internal Security Minister Yitzhak Aharonovich on the damage in recent days, assuring the PM that although such storms are not so common in Israel, the department has set up an efficient routine for these kinds of situations, and that everything has been running smoothly. 
"We have live feed from 103 cameras from major intersections in the country. Once we recognize here a traffic jam, flood, blockage or g-d forbid, an accident, we send people out to take care of it," said Major General Stein. 
The PM also asked for a report on the events of Tuesday, which saw major highway closures, traffic jams and other damages resulting from the storm.
"Although some citizens complained and spent long hours in traffic, control all day was full," said Stein, "The decision to close the Ayalon highway, even if it was a nuisance, was important and necessary . If we would not have done this we would seen a lot more cars needing to be rescued and possibly injuries. "
The storm is predicted to get heavier as temperatures continue to drop. Snow has already begun to fall in Jerusalem and the surrounding area and with the storm set to intensify, a spokesperson for the government office said workers will be on call day and night to immediately deal with emergencies as they arise.