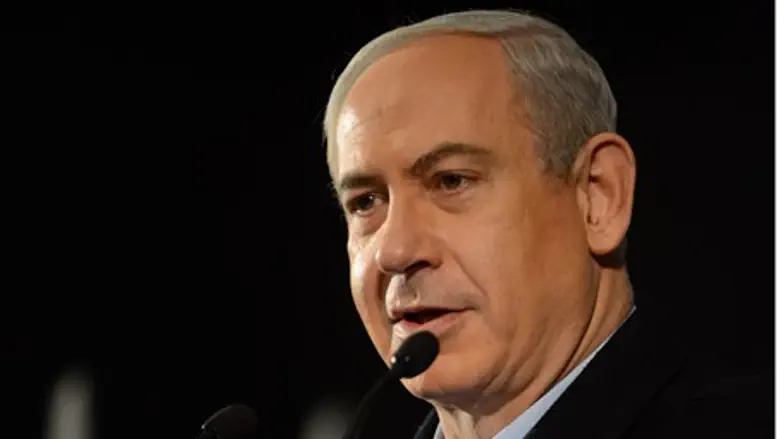 Netanyahu in Ariel
Israel news photo: Flash 90
Iran's nuclear ambitions and Syria's chemical weapons are the real threats facing the Middle East and the stability of the entire international community, not the so-called "Israeli settlement" expansion, Prime Minister Binyamin Netanyahu affirmed during a visit to Ariel University on Tuesday.
After a lengthy process and much heated debate, Ariel University, located in Samaria (Shomron), recently received government recognition as a full-fledged university, making it the first Israeli university over the "green line" (1949 armistice line).
"The danger to the world is not a university in Ariel. The danger to the world is not that Israel is building neighborhoods in Jerusalem," the Prime Minister said, addressing university staff ahead of a January 22 general election and after a drive to approve thousands of new Jewish homes in east Jerusalem.
"The danger is Iran, which is building nuclear weapons. The danger is Syria's arsenal of chemical weapons," Netanyahu said.
"History will judge harshly those who equate democratic Israel -- which is establishing a university -- and dictatorial regimes that slaughter their people and which hold atomic weapons of mass destruction," he continued. "We remain faithful to our homeland. We will continue to defend our citizens, develop our country and build in our land. With G-d's help, we will build and we will succeed."
With a population of 17,800, Ariel is one of the largest Jewish cities in the Shomron region of Israel.
Ariel University has over 12,000 students spread across four faculties including medicine, engineering, natural sciences and social science. It also has facilities for architecture and telecommunications studies.
The upgraded university status, which was seen as a true victory for Jewish nationalists, will now enable the facility of higher education to distribute advanced degrees and receive significant additional funding.
A leading nationalist pundit, Dror Eydar, wrote Sunday that the decision to grant full university academic status to Ariel University, along with the granting of academic recognition to the Shalem Center, are Likud's most important achievements, after dozens of years in which "it did not truly know how to rule."
"Ariel and Shalem are an infrastructure for an alternative elite that, in the coming generation, is supposed to join the country's leading ranks in different fields," he determined. "This is a profound challenging cry against the walls of politicization that grew very tall in Israel's academia in recent decades."