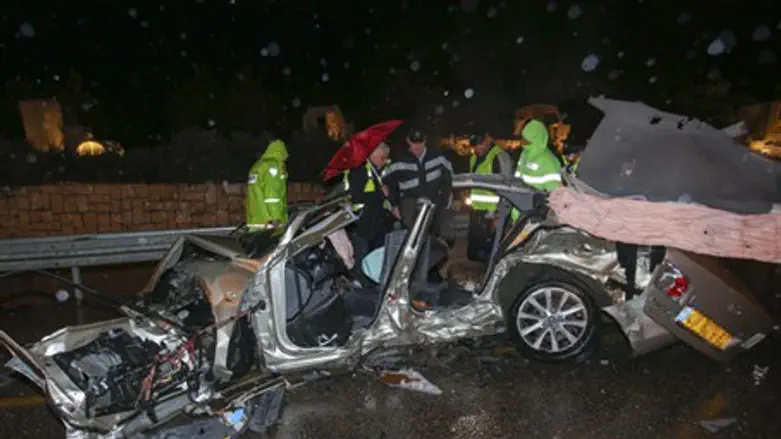 A fatal car crash killed three Monday night
Flash90
The heavy rains and powerful winds that have been ongoing for the past few days have not only caused power outages and closed roads due to flooding but, tragically, the paralyzing storm is most likely to blame for a fatal car crash that killed three people Monday night on the road between Tel Aviv and Jerusalem.
Arie Farkash, a medic with the Gush Dan branch of Hatzalah was at the scene of the accident and said the car "lost control and crashed into the guard rail on the side of the road. There were four people in the car and three of them were killed instantly."
Farkash added that "In the middle of the road there was another car which also appeared to be damaged in the accident. I checked it out but there weren't any people in the car. Regarding this, the police need to find out whether there is a connection." Police reportedly did find bottles of alcohol in the victims' car.
On Tuesday morning the Ayalon River overflowed due to the massive downpours, resulting in the Ayalon highway being blocked to traffic from the Glilot Interchange to the Kibbutz Galuyot Interchange. Later, the northbound lanes were closed. Drivers have been notified of alternative routes and have been warned that flooding may persist, subjecting more roads to closures. Police also said to expect rail traffic disruptions and delays following severe flooding.
צומת הדואר
credit: משה הדס
צומת הדואר בגוש טלמונים
credit: מתניה אהרונוביץ - סוכנות תצפית
צומת הדואר בגוש טלמונים
credit: מתניה אהרונוביץ - סוכנות תצפית
צומת הדואר בגוש טלמונים
credit: מתניה אהרונוביץ - סוכנות תצפית
צומת הדואר בגוש טלמונים
credit: מתניה אהרונוביץ - סוכנות תצפית
ואדי קלט
credit: סוכנות תצפית
עין פואר
credit: סוכנות תצפית
ואדי קלט
credit: סוכנות תצפית
נחל איילון עולה על גדותיו
credit: פלאש 90
נחל איילון עולה על גדותיו
credit: פלאש 90
נחל שילה
credit: תיירות בנימין
נחל שילה
credit: תיירות בנימין
נחל שילה
credit: תיירות בנימין
credit: מתנאל רחמים
credit: תמיר אורבאום - סוכנות תצפית
ואדי שיבן -
credit: אביגדור שץ
כביש 60 - ואדי חרמיה
credit: אביגדור שץ
ואדי חרמיה
credit: אביגדור שץ
נחל שילה
credit: אביגדור שץ
credit: דביר רביב - ועד מתיישבי בנימין
נחל קנה
credit: שריה אברהמי
נחל קנה
credit: שריה אברהמי