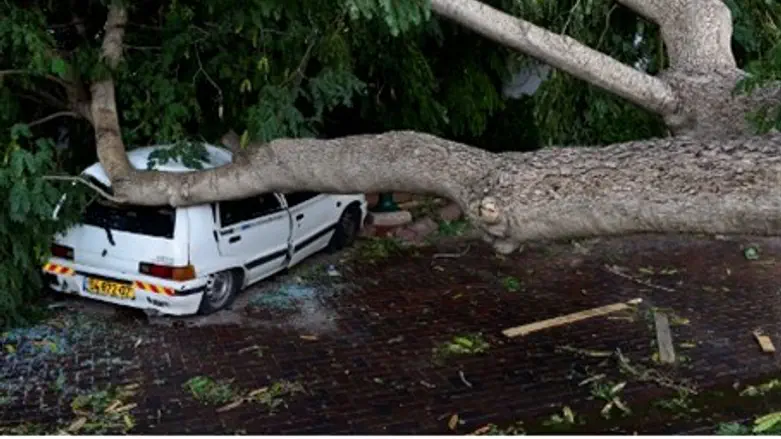 View of a car damaged by a large tree had blo
Israel news photo: Flash 90
Israel's answer to "Superstorm Sandy" closed the Ayalon, Tel Aviv's major highway Tuesday morning, and the worst is yet to come, with several inches of snow possible in Jerusalem and lesser amounts at levels as far west as the Carmel ridge near Haifa.
The Ayalon was shut down for more than an hour, for the first time in 21 years, after waters flooded the major route through the metropolitan area, casing huge traffic jams on alternate routes.
Train service from Hadera, northeast of Netanya, was cancelled because tracks and passenger platforms were flooded, and some train service in Tel Aviv also was shut down.
Gale force winds ripped trees to the ground Monday, knocking out power for hundreds of thousands of Israelis, including massive areas of Judea and Samaria.
Four inches of rain fell on the southern port of Ashdod by Tuesday morning, and up to several inches drenched some northern areas.
In a rare meteorological event for Israel, several weather fronts converged at once over the country.
Israelis' dream of snow --- real snow and not just a dusting that sends everyone to panic – may be realized as temperatures continue to plummet and an unusually lengthy and intense storm pounds Israel from the Lebanese border to Eilat.
Snow already has piled up on the Hermon slopes, with a foot of white stuff already having accumulated on the lower slopes and more than two feet on the higher levels. Snow may begin falling on Jerusalem at night, with colder temperatures making accumulations of up to five inches possible by Wednesday night.
Weather buffs reported that maps show the snow will reach much lower levels for the first time in eight years.
The "bad weather" is great news for everyone who likes to drink water. This winter's higher than average rain, coupled with the flow of desalinated water that has reduced the pumping of water from the Kinneret, has raised the lake's level to the highest in years.