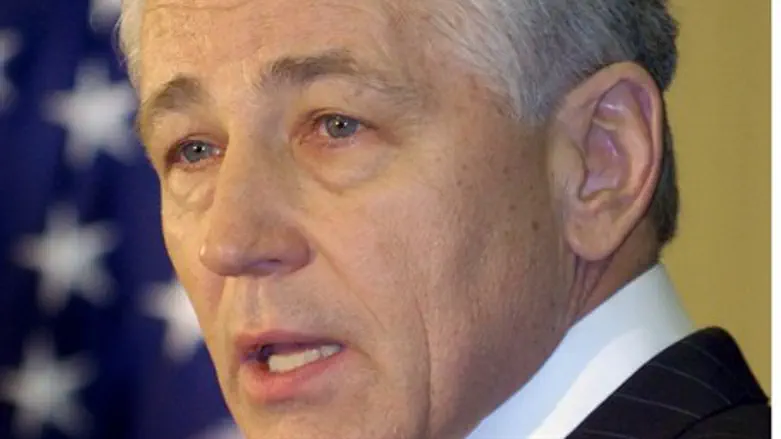 Chuck Hagel
Reuters
The National Jewish Democratic Council (NJDC) issued a statement on Monday saying it is confident that Chuck Hagel, the former Republican senator from Nebraska who is expected to be nominated as Secretary of Defense to replace Leon Panetta,  "will follow the president's lead of providing unrivaled support for Israel."
"President Barack Obama's unprecedented pro-Israel credentials are unquestionable, and setting policy starts and stops with the president," said the statement issued Monday morning by the NJDC. "While we have expressed concerns in the past, we trust that when confirmed, former Sen. Chuck Hagel will follow the president's lead of providing unrivaled support for Israel -- on strategic cooperation, missile defense programs, and leading the world against Iran's nuclear program."
In 2007, when Hagel was considering running for president, the NJDC issued a statement attacking his "questionable record" on Israel, which included refusing to sign on to an effort to urge the EU to designate Hizbullah as a terrorist organization, refusing to sign a letter in support of Israel, and another letter to former Pres. George Bush beseeching him to pressure the Palestinian Authority to ban terrorist groups from elections.
Upon first hearing of the potential nomination, the Republican Jewish Coalition (RJC) issued a statement calling the potential, and now probable, nomination "a slap in the face for every American who is concerned about the safety of Israel," as it similarly cited a long list of actions Hagel has taken that raise alarms about his failure to support Israel.
The National Director of the Anti-Defamation League, Abraham Foxman, also released a statement Monday morning, saying that while Senator Hagel would not have been his "first choice," he respects the "President's prerogative."
"I trust that the confirmation process will provide an opportunity for Senator Hagel to address concerns about his positions, which seem so out of sync with President Obama's clear commitment on issues like Iran sanctions, isolating Hamas and Hizbullah and the president's strong support for a deepening of U.S. Israel strategic cooperation," Foxman said.
"I particularly hope Senator Hagel will clarify and explain his comments about the 'Jewish Lobby' that were hurtful to many in the Jewish Community," he added.
The League previously expressed concerns with the Senator's record on Israel and Iran, and said that his record was "at best disturbing and at worst, very troubling," citing his remarks about the Jewish lobby and his voting record on Israel and Iran.