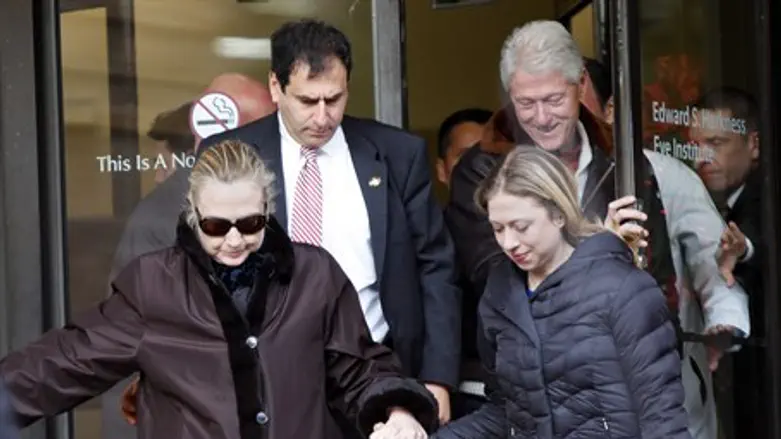 U.S. Secretary of State Hillary Clinton leave
Reuters
US Secretary of State Hillary Clinton was discharged from a New York hospital on Wednesday after being treated for a blood clot near her brain and is expected to make a full recovery, the State Department said.
Clinton was admitted to New York Presbyterian Hospital on Sunday to be treated for a blood clot behind her right ear that stemmed from a concussion she suffered in mid-December.
The concussion was the result of an earlier illness, described by the State Department as a stomach virus she had contracted during a trip to Europe that led to severe dehydration.
"Secretary Clinton was discharged from the hospital this evening," a top aide, Deputy Assistant Secretary Philippe Reines, said in a statement Wednesday evening, after the 65-year-old diplomat was forced to spend New Year's Eve in a hospital bed.
"Her medical team advised her that she is making good progress on all fronts, and they are confident she will make a full recovery," he said, adding that Clinton was "eager to get back to the office."
Clinton, who has not been seen in public since Dec. 7, was accompanied by her husband, former president Bill Clinton, as well as her daughter Chelsea and several aides, as she walked to a waiting black van at the hospital, according to images broadcast by CNN.
Both Clinton and her family "would like to express their appreciation for the excellent care she received from the doctors, nurses and staff at New York Presbyterian Hospital Columbia University Medical Center," Reines said.
Earlier, State Department spokeswoman Victoria Nuland said that despite her illness Clinton had been keeping in touch by telephone.
"She has been talking to her staff, including today. She's been quite active on the phone with all of us," Nuland told journalists.
Her doctors said in a statement on Monday that Clinton had not suffered a stroke or any neurological damage, but added that they would be treating Clinton with blood thinners to break up the clot, which if left untreated could be potentially dangerous.
Clinton's hospitalization put an end to speculations that the secretary of state was feigning illness to avoid testifying about the Sept. 11 attack on the U.S. mission in Benghazi, Libya, which resulted in the death of the US ambassador and three other Americans. She had been expected to testify on Dec. 20 before the House of Representatives and Senate foreign affairs committees. She is currently expected to testify before the end of the month.
Last month, President Obama named Massachusetts Democrat John Kerry, chairman of the Senate Foreign Relations Committee, as his top choice to succeed Clinton.
A number of Republican senators have said they would not consider Kerry's nomination until Clinton testifies about the Benghazi terror attack.