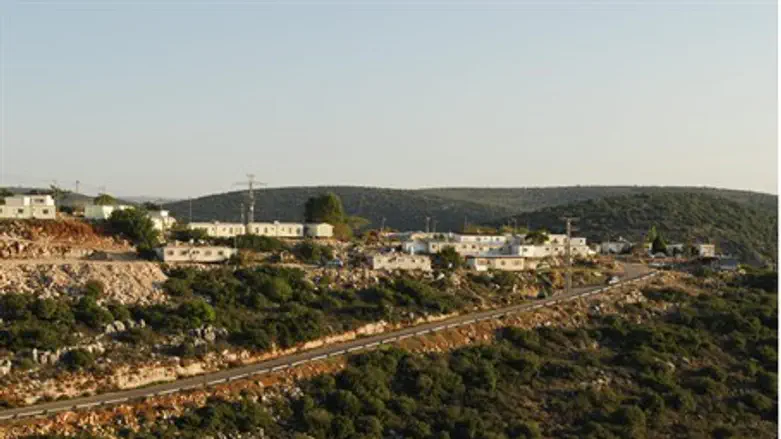 Samaria
Flash 90
President Shimon Peres, who in a speech on Sunday claimed that a large majority of Israelis supported setting up a Palestinian Authority state in land liberated by Israel in the 1967 Six Day War, is apparently behind the times. A poll released Thursday shows that, for the first time, a plurality of Israelis now oppose the "two-state solution."
The poll, by the highly respected Geocartographia organization, 45% of Israelis are against the idea of setting up a PA state in Judea and Samaria. Forty percent said they support it, and 14% did not respond to the question.
The question was asked as a part of the latest poll by the organization on whom voters plan to choose on Election Day. The poll showed that the Likud-Yisrael Beiteinu list continued to weaken, while the Bayit Yehudi party continued to strengthen. In a defining speech at Bar Ilan University three years ago, Likud leader Prime Minister Binyamin Netanyahu expressed his solid support for the establishment of a PA state in parts of Judea and Samaria.
In his speech Sunday, IPeres said that Israel had "no choice" but to pursue the "two state solution with Abu Mazen (PA chief Mahmoud Abbs) representing the Palestinians, because he is the only Palestinian leader that agrees with many of the basic thing Israel seeks in a settlement." Peres added that a "final status settlement with the Palestinians must be completed without delay. There is clear majority among Israelis for the two state solution. I know Abu Mazen for 30 years. We do not support every word he has said and we have some criticism, but I know the reality, and the reality is that Abu Mazen is the one and only Arab leader who has said that he is in favor of peace and against terror," Peres said.
Peres was slammed by the Likud and others on the right for expressing a political position on such a sensitive issue, since as President he is supposed to be non-partisan.