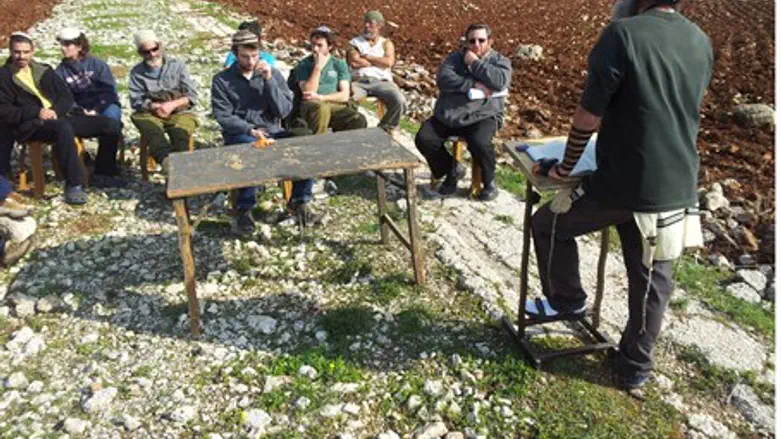 Tapuach Jews study Torah on disputed land
Yoni Kempinski
After being kicked off their land by Arabs who were backed by the IDF, Jews from Tapuach in northeastern Samaria came back to the disputed land on Wednesday and held a Torah study session there.
The Jews are planning to relocate their yeshiva to the disputed land, they told Arutz Sheva.
The story began on Friday: the Tapuach Jews were working the land when Arabs came and claimed ownership. The IDF hurried to the scene to separate the two sides and told them that on Sunday, no one could work the land until a court decides who has ownership.
Sunday arrived, and so did the Arabs and the IDF. Arutz Sheva filmed the soldiers protecting the Arabs as they plowed the land, and the alleged Arab owner said, "Today I got a permit, and as you can see, the soldiers are here protecting us. I feel great."
Yekutiel ben Yaakov, a resident of Tapuach, told Arutz Sheva on Wednesday that after Sunday's incident was caught on camera, IDF instructed both sides not to work the land until the matter is resolved.
"The army finally admitted that they were wrong in allowing the Arabs to come here in the first place and to make permanent changes in this land," he said, adding, "The fact is the army allowed this to happen. Later we proved that everything the Arabs stated about having a High Court decision about this was all fabricated."
However, said ben Yaakov, the damage has already been done because by doing some work on the land the Arabs have essentially claimed some ownership of it.
"At least now the army has agreed to order that no changes are made here, but that doesn't help us because the changes have already been made, and this will be brought as evidence against us in two weeks when the High Court begins to sit on this case," he noted, adding, "The Courts are very likely to say that there is a doubt so we'll leave the status quo - meaning they rule in favor of the Arabs."
Ben Yaakov said that the land in question was legally purchased by a Jew named Saadia Avraham and noted he has the required documents to prove it.
"We hope to weigh in on this case in the High Court as well," he said. "We were asked by Saadia's family to bring our yeshiva here eight years ago and we've been delinquent on doing that but now the time has come. We plan to implement our plans for this land based on the request of the Jewish family that bought this land."