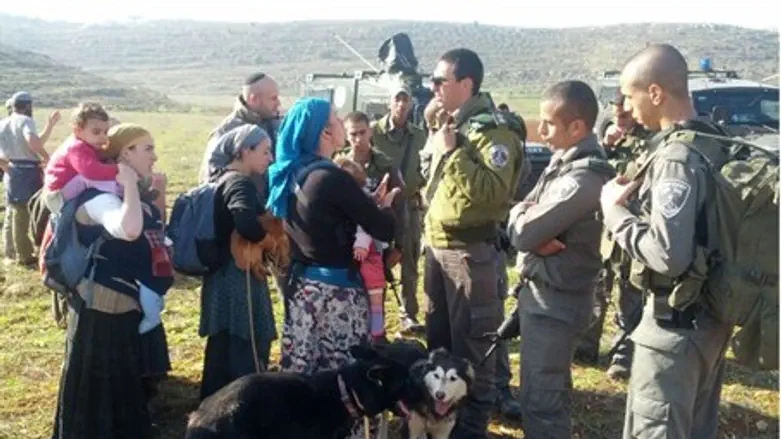 Border Police at Aish Kodesh
Israel news photo courtesy of Tazpit
Police face complaint of violence for clubbing and arresting an unarmed and handcuffed Jew at Aish Kodesh, located north of Shilo in the Binyamin region, on Tuesday after an Arab picked up a large rock to hurl at him and the Jew made a motion as if he were pulling out a gun.
The Organization for Human Rights in Judea and Samaria demanded that the police investigate the violence immediately and before continuing with the probe against the arrested Jew.
Clashes continued on Wednesday between Jews and Arabs, who are contesting ownership of a field that Jews have farmed for years.
The IDF continued to provide protection for the Arabs, provoking Bayit Yehudi candidate Orit Struck, head of the Organization for Human Rights in Judea and Samaria, joined by the Regavim land rights watchdog organization to blame the government for the clashes. Struck filed the complaint with the Police Investigation Department.
They also called on the Netanyahu government to adopt the Levy Committee Report, commissioned by Netanyahu, which last year determined that Jews have a right to live in all parts of Judea and Samaria. Had the report been adopted, the organizations asserted, the conflict would not have occurred.
The report by the three-man panel headed by retired High Court Justice Edmund Levy, determined that contrary to long-standing policy of the United Nations, the United States and the European Union, Judea and Samaria is not "occupied" territory under international law. The government has delayed ratification of the report.