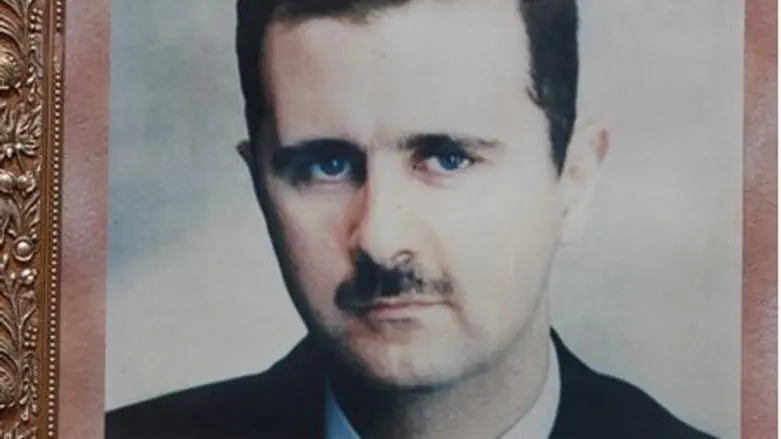 Picture of Syrian Pres. Bashar al-Assad
israel news photo: Flash 90
Signs are increasing that Syria's embattled president has little hope left for himself, The Washington Post reported over the weekend.
Accounts of conditions inside the Syrian regime in recent days have shed new light on the psychological toll of the nearly two-year-old civil war on Bashar Al-Assad, depicting the Syrian leader as isolated and fearful as his regime appears to be on the verge of crumbling around him.
After months of nearly continuous setbacks for his government, Assad all but vanished from public view in recent weeks, giving no interviews or speeches and making no "live" appearances on state-run television.
U.S. and Middle Eastern officials cited by The Washington Post now say Assad is nearly as invisible within the shrinking world of his presidency, restricting contacts to a small circle of family members and trusted advisers.
Forgoing any public effort to rally his beleaguered forces, Assad has focused on his personal safety, according to analysts and news accounts.
Syrian media and activist accounts recorded the shift, describing the president increasing his security detail, moving to a different bedroom each night and tightening controls over food preparation to thwart would-be assassins. The reports could not be independently confirmed.
Middle Eastern intelligence officials, citing accounts from defectors that could not be verified, said, according to The Washington Post, that Assad has ceased going outdoors during daylight hours, apparently out of fear that he will be hit by a sniper's bullet or other fire.
"His movements suggest a constant state of fear," a Middle Eastern official told the newspaper on the condition of anonymity.
Assad's words, however, continue to convey a resolve to remain in power. In his last televised interview in early November, the Syrian president vowed to "live in Syria and die in Syria."
He showed no change of heart and little willingness to compromise during private meetings with UN officials who traveled to Damascus this week to discuss a plan for a transitional government. Officials briefed on the meetings said Assad appeared poised and confident.
U.S. officials declined to discuss the mood within Assad's inner circle, but one senior official with access to intelligence reports told The Washington Post that the rebels' steady advance on Damascus was having an inevitable impact.
"Assad may still believe Syria is his, but the psychological strain of struggling against a determined and resourceful foe has to be taking its toll," said the official, who spoke on the condition of anonymity.
U.S. officials say the sense of isolation within the presidential palace has been reinforced by new defections — most recently by the chief of Syria's military police — as well as moves by Syria's few remaining allies to distance themselves from the 47-year-old dictator. In a major psychological blow, Russian President Vladimir Putin last week said Russia was "not concerned with the fate of Assad's regime."
"Putin's comments hit particularly hard," the Middle Eastern intelligence official told The Washington Post. "With the Russians pulling back, there's increasingly a feeling that the ship is sinking."
The concerns about personal safety for Assad and his staff also have been reinforced by a string of attacks targeting top regime officials. A rebel bombing of a secret cabinet meeting in July killed three of Assad's senior security advisers, including his brother-in-law, who was the deputy defense minister.
The regime also has suffered setbacks on the battlefield, as its forces lose ground across all but two of the country's 14 provinces. Military analysts say Syrian troops are being killed at a rate of about 1,000 a month, and even elite units appear to have lost the ability to mount sustained offensives.
In September, a Syrian journalist who used to work at the presidential palace said Assad was having trouble sleeping at night.
The journalist, Abdallah Omar, said that the Syrian president watches from his office no less than 16 TV channels belonging to the rebel forces in the country.
"Assad sits all day watching TV with a remote control," said Omar. "He listens to each satellite channel. Every time he gets nervous and angry, he looks out the window at the view of Damascus."
Other reports indicated that Assad changed his security team several times over several months, fearing one of his own security guards may kill him.
Officials said that the IranianRevolutionary Guards were taking part in guarding Assad, as well as in guarding other senior officials in the Syrian regime, and are also advising Assad in this regard.