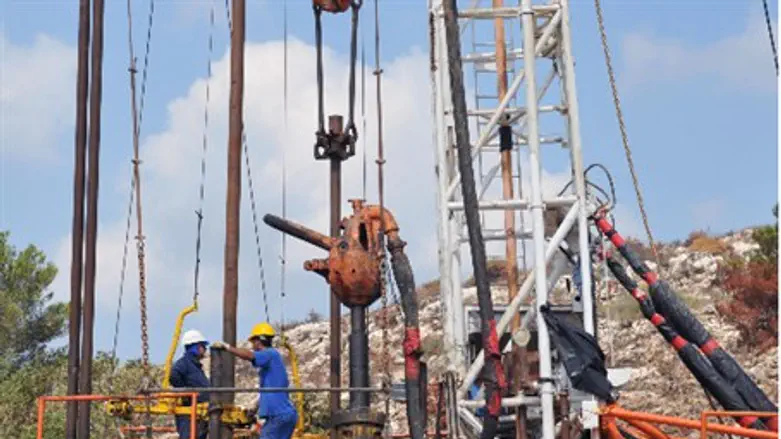 Gas drilling
Flash90
Israel has launched an offshore platform for natural gas, a step towards energy self-sufficiency for the first time in history.
The platform, taller than Israel's highest building, is located 24 miles west of the southern port city of Ashkelon and is scheduled to receive gas in April.
"With faith, perseverance, and vision, we have achieved Israeli energy independence," said a jubilant Yitzchak Tshuva, controlling shareholder of Delek Group Ltd.
"We are proud of this opportunity that has fallen to us to bring the news to Israel and its people of Israeli gas, which will revolutionize the Israeli economy and every Israeli household," he said. "We must continue to explore, invest and drill; the sea is big and there are more gas reserves in it for Israel and its neighbors…. More investors and developers should be encouraged to drill in Israel, and we should bring new foreign investors to the country to develop projects, such as Tamar, for the glory of Israel."
The benefits of Israel's recently discovered gas fields are enormous and largely under-estimated by the general public.
"Natural gas will not only make electricity production more efficient, cleaner, and cheaper, it is a giant step toward freeing us from dependence on foreign energy sources, especially Arab oil," said Infrastructures Minister Uzi Landau at the inauguration ceremony Friday. "Although the reservoirs are located thousands of meters below the seabed, as far as the possibility of exploiting them is concerned, the sky's the limit."
Gas from the Tamar field, west of Haifa, will flow through a huge underwater pipeline.
The platform has provided skilled and high-paying jobs for dozens of Israelis, and the expected future of energy self-sufficiency will have a huge impact in Israel's favor as Israel cuts oil imports and begins exporting gas.
Energy self-sufficiency also may lead to a very strong shekel, much to the dismay of exporters who will lose on currency transactions from foreign money but a bonanza for consumers as imported prices converted to shekels may drop.
"Inauguration of the platform is an important step toward the flow of natural gas to Israel from the Tamar well, which cost the unprecedented amount in Israeli terms of more than $3 billion," said Tamar's partners, which include Noble Energy. "This is the realization of the vision and dream of the developers behind Israel's largest ever infrastructure project.
"The production of natural gas from the Tamar well brings Israeli closer to energy independence for the first time since the country was founded, and will save billions of shekels, partly from the conversion of electricity production to natural gas."
Tamar was the first large-scale hydrocarbon resource discovered within Israeli territory, and it was the first of several other major discoveries that will add to Israel's energy reserves.
The Hizbullah terrorist organization and the Lebanese government dominated by pro-Syrian and Hizbullah factions, has claimed the gas belongs to Lebanon and has threatened to go to war over the energy fields.
The government and the IDF are beefing up naval forces to protect the gas and oil rigs from terrorist attacks.
Oil discoveries have been announced at lower levels undersea, and developers have said there is enough commercial-grade oil to warrant drilling and production.