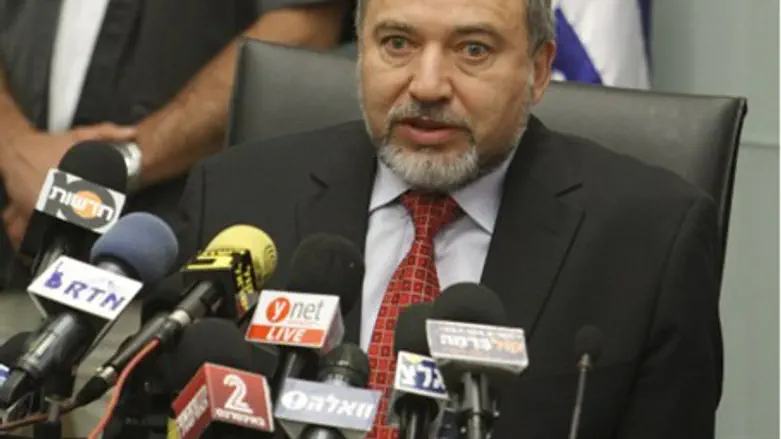 Avigdor Lieberman
Israel news photo: Flash 90
A toughened government indictment against Foreign Minister and Israel Beyteinu chairman Avigdor Lieberman, filed on Sunday, includes a demand for a conviction which would bar him from public office for seven years.
The indictment cited Lieberman's deputy Foreign Minister, Danny Ayalon, as a key witness. By coincidence or not, Lieberman dumped Ayalon from the party's list of candidates in next month's elections.
The indictment charges Lieberman with breach of trust and fraud, along with the designation of "moral turpitude," a legal term for a mark of Cain that keeps convicted politicians out of public office for seven years.
Lieberman continues to protest his innocence and his certainty that he will be acquitted of the charges, which surround the appointment of Ze'ev Ben Aryeh, a former ambassador to Belarus, to another post, allegedly as a favor for Ben Aryeh's leaking to Lieberman details on the investigation against him. The specific case has been closed, and Ben Aryeh eventually did not serve in the post that was offered him.
Government prosecutors have been running after Lieberman for 12 years. Bayit Yehudi head Naftali Bennett has expressed the view that the indictments - as well as the re-opening of the "Bibi tours" issue against the PM - are timed suspiciously close to the elections, whereas they could have waited till afterwards since they have been investigated for years.
Several previous investigations and indictments against public officials have failed to secure convictions, the most recent being serious allegations against former Prime Minister Ehud Olmert. He was convicted on one lesser charge, but the prosecution's image was badly marred by Olmert's acquittal on the more serious charges.
Lieberman has asked for a quick trial that will end before the January 22 elections, which is unlikely.