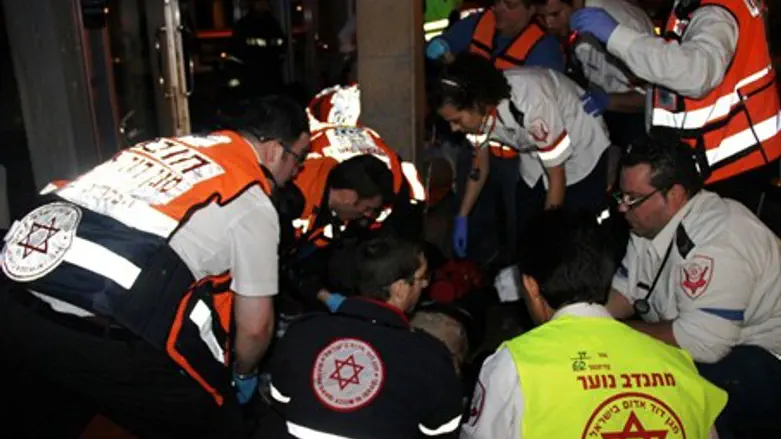 MDA rescue workers at the Herzliya mall fire
MDA Spokesperson
Police and fire investigators are continuing their investigation into a major blaze that broke out in one of Israel's toniest neighborhoods Wednesday night. One person was killed and six were injured in the fire that broke out at a spa in the Arena Mall at the Herzliya Marina. Two of the injured are still in critical condition.
Eyewitnesses in the crowded mall said that they had heard screams coming from the entrance of the spa, but the smoke from the blaze spread quickly and made it impossible for them to render assistance. After the smoke, the eyewitnesses said they heard an explosion. "People panicked and began escaping, while rescue forces came in and began rendering assistance to some of the injured," one of the eyewitnesses told Israel Radio.
Initial results of the investigation indicated that the fire started in one of the spa's saunas, apparently started by a lit candle.
Residents of the high-rise apartments on top of the mall were evacuated from their homes while firefighters determined that the building was safe. According to one resident of the building, the incident was no surprise. "We told the fire department numerous times that the situation was very dangerous," the resident said. The spa was apparently unlicensed, and it had been closed down by authorities several times in the past, but kept reopening, the resident said.
Funeral arrangements for the victim of the blaze, Shalom Bason, a 40 year old bank manager from Herzliya, have not yet been announced.