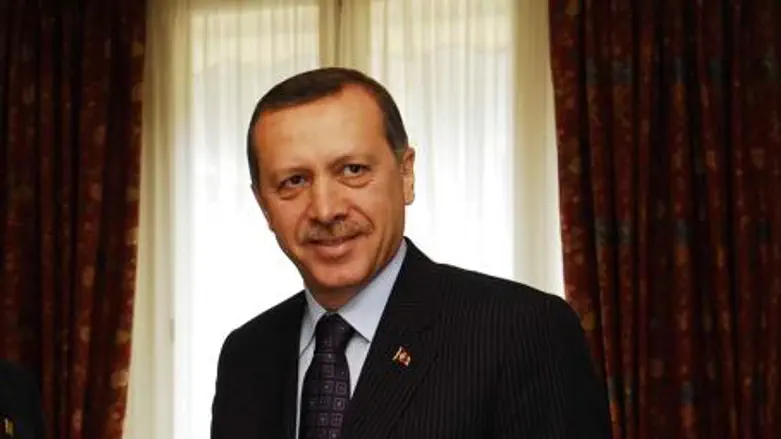 Turkish PM Recep Tayyip Erdogan
Israel news photo: Flash 90
Turkish police raided university dorms and arrested 12 students in Istanbul last week following protests against PM Recep Tayyip Erdogan at an event held at a technical university. More arrests are reportedly still expected, according to the Turkish Hurriyet daily newspaper.
Erdogan came with massive security at the Middle East Technical University on Dec. 18 to  attend a ceremony to mark the launch of Turkey's Gokturk-2 satellite. The prime minister arrived with 105 security vehicles, 20 armored cars, one "intervention tank" and 2,500 police officers, according to the report.
Police called the demonstrations, which took place at Middle East Technical University, a "DHKP/C operation." The term is a reference to the outlawed Revolutionary People's Liberation Party/Front (DHKP-C). The group, which holds a Marxist-Leninist ideology and anti-U.S., anti-NATO positions, considers the Turkish government to be under the control of 'Western imperialism.' The "party" is the entity's political arm, and the "front" is the entity's military wing. 
Five students were injured and 26 were detained during the demonstration, as police fired pepper gas and water cannons at the demonstrators to keep them from approaching the ceremony hall. At least one student remains hospitalized in serious condition after being struck at close range with a pepper gas canister.
The police action reportedly drew widespread condemnation, including from the head of the university.