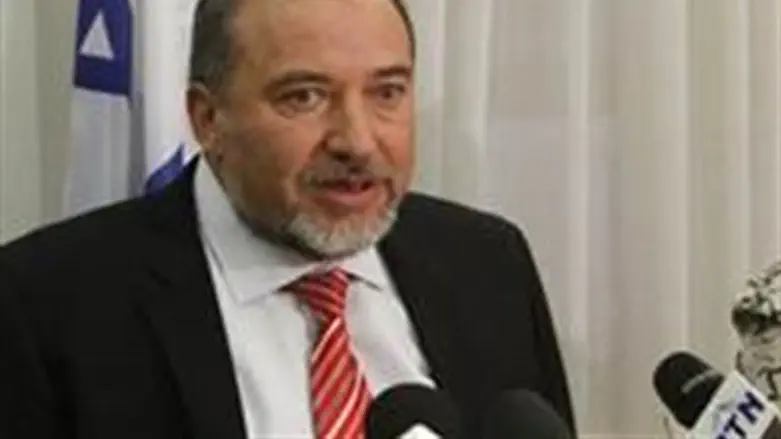 Avigdor Lieberman
Israel news photo: Flash 90
Foreign Minister Avigdor Lieberman Thursday launched a fierce attack against journalists in general, and Channel 10 and Yediot Aharonot in particular, according to a report in media news website Ice.
Speaking at a conference in Tel Aviv, Lieberman said that some journalists in Israel serve an agenda, and are "liars without limits."
Channel 10, said Lieberman, is trying to influence the outcome of the investigation against him. "Channel 10 blackmails and places unreasonable pressure on all of the decision makers in my case," he explained. "Anyone who tries to be objective is simply threatened by them."
He also singled out a story written by Yediot Aharonot's Nahum Barne'a, according to which Lieberman's bodyguards rudely pushed an Ethiopian guard at a tennis court and almost beat him up. "Of course, Barne'a did not write that Lieberman was the first Foreign Minister to appoint a woman from the Ethiopian community to serve as ambassador," he noted.
The Foreign Minister said that he called the Head of the Shin Bet to try and receive confirmation of the story. "He checked and got back to me and said that these things never happened, and put it in writing." Lieberman's spokesman called the president of Hebrew University, where the tennis courts were located, and he also told him that the incident never happened, according to the minister.
Nahum Barne'a told Ice: "What is the point of me responding when I do not have immunity and Lieberman does? It is not fair. I prefer not to comment." Ice was not able to get a response from Baruch Kra, a Channel 10 reporter whom Lieberman singled out for criticism.