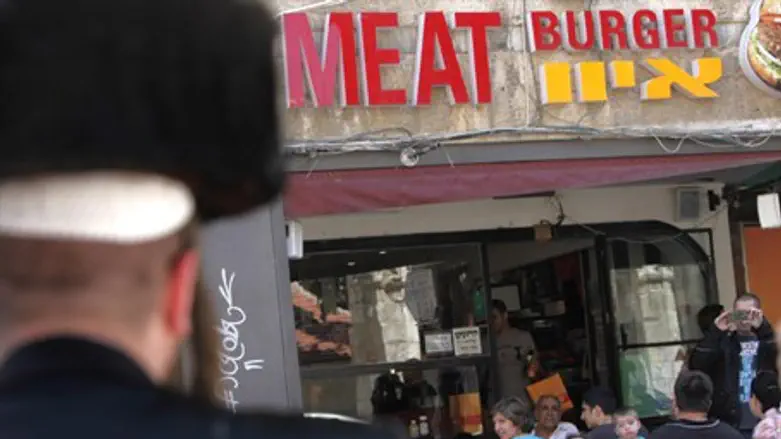 non-kosher restaurant
israel news photo: Flash 90
The Polish parliament, the Sejm, is reportedly set to amend the law on the protection of animals to allow kosher slaughter without stunning.
"We have prepared a draft amendment to the law on the protection of animals," said Agriculture Minister Stanislaw Kalemba, according to the PAP news agency.
In a highly controversial decision, Poland's Constitutional Court ruled in late November that a 2004 government directive enshrining ritual slaughter was unconstitutional on procedural grounds.
The court ruling united the country's Jewish and Muslim communities in their calls to protect religious freedom. The religious groups also received the firm backing of those in the farm sector for whom the production of kosher and halal meat for export is a major source of income.
"Kosher butchering is essential for sustenance of Jewish life and its ban hurts Jews not only in Poland but in other places across Europe," Rabbi Menachem Margolin, head of the Brussels-based European Jewish Association, wrote in a letter to Polish President Bronislaw Komorowski.
Echoing the concerns of the majority of the country's Jewish community, Margolin warned that a ban would be "devastating to Jewish welfare and freedom of religion".
"The ban hasn't yet come into force, and we hope it won't come into force. If it does, it will be a serious blow to religious freedom," said Bronislaw Talkowski, head of the country's six-century-old Tartar Muslim community, according to AFP.
Moreover, Poland is home to around two dozen slaughterhouses specialized in kosher and halal butchery, with the value of last year's exports estimated at $327-456 million.
According to agriculture ministry estimates, the country exports around 100,000 ritually slaughtered livestock annually to some 20 nations including Turkey, Israel, Germany and France.
Animal rights activists and others against ritual slaughter, however, have voiced strong opposition, often mirroring the Nazi occupation and recalling the country's long history of anti-Semitic tendencies. 
"The Jews have their own country… this is Poland, not Israel", wrote one opponent in an online forum.  "Go 10 meters underground, where Hitler was preparing a place for you" and "Poland for the Poles, not for you and the rest of the Jews", wrote others.
Poland reportedly intends to implement EU Regulation 1099, a set of rules meant to legalize religious slaughter in the EU's 27 member states. The regulation is scheduled to go into effect on 1 January 2013. Countries are not required to implement the rules or may implement them partially.