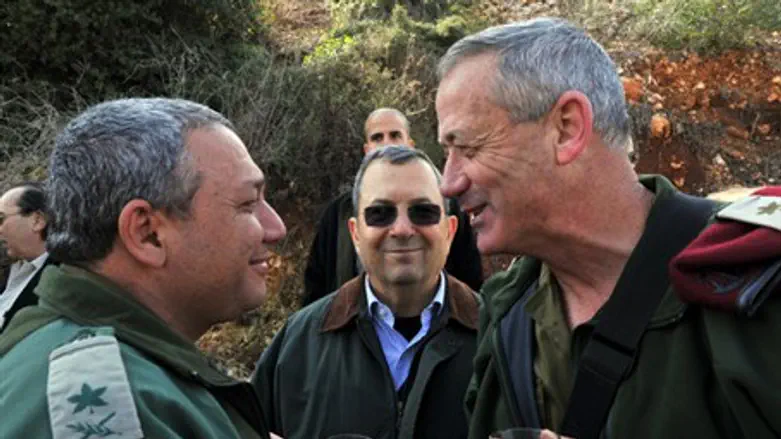 Gadi Eisenkott (left)
Flahs90
Attorney General and Government Legal Adviser Yehuda Weinstein has approved the appointment of Major General Gadi Eisenkott as the deputy IDF Chief of Staff. Weinstein informed Defense Minister Ehud Barak and IDF Chief of Staff Lt. Gen. Benny Gantz of his decision Sunday afternoon, and the two were set to confirm Eisenkott's appointment later this week.
Generally, major appointments are not made during election campaigns, and Weinstein took it upon himself to examine the appropriateness of appointing Eisenkott to the post. Due to the security sensitivity of the post, the appointment was approved, sources close to Weinstein said.
Eisenkott, 52, is a former commander of the Golani Brigade, and later was head of the Judea and Samaria Command. He was also head of the Northern Command in the wake of the Second Lebanon War, and is credited with being a prime motivator in the rebuilding of the IDF in the wake of that difficult battle.
Eisenkott has also been a motivating force in what political pundits have called Israel's "Dahiya strategy," named after a Hizbullah stronghold in Beirut that purported to be a civilian enclave during the Second Lebanon War, although it was in fact a center of Hizbullah terror operations.
Eisenkott made it clear that Israel would strike against "civilian villages" that are really military bases, regardless of the purported nature of the villages. "We will apply disproportionate force on it and cause great damage and destruction there," he is quoted as saying. "From our standpoint, these are not civilian villages, they are military bases."