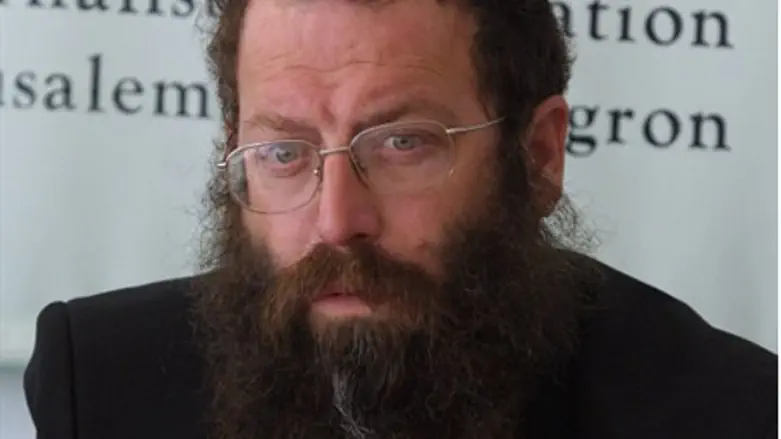 Baruch Marzel
Flash 90
The Central Election Committee's decision to invalidate the Power to Israel party's campaign is disproportionate, one of its candidates said on Thursday.
The Chairman of the Central Election Committee, Justice Elyakin Rubinstein, invalidated the party's election campaign on Wednesday, claiming that its use of Arabic and saying that "there are no rights without obligations" constituted "racism".
Rubinstein wrote that "the ad is meant to humiliate one group in Israel, the Arab population. As such, it is highly likely that it will hurt the feelings of this population."
He added, "A racist expression such as this may also affect the feelings of the Jews, which were and unfortunately are still used as a target of racist persecution around the world. In the balance between freedom of expression and the values ​​mentioned, the latter is more important. Freedom of expression applies, of course, also on insulting expressions."
However, Baruch Marzel, who is running on Power to Israel's Knesset list, rejected this argument.
"The Israeli government decided this week to withhold tax money from the Palestinian Authority because they did not pay for their electricity, so why is it that when we attack Israeli Arabs and write that they do not pay taxes, electricity and water, and do not serve in the army, it is called racism?" Marzel told Arutz Sheva.
He added that there is nothing wrong with a political party posting ads in Arabic, one of Israel's official languages.
"Besides the fact that Arabic is an official language in Israel, in the previous elections Lieberman spoke about the issue of Arab loyalty and no one invalidated him," said Marzel, noting that Yisrael Beytenu during the 2009 elections used the slogan "No loyalty, no citizenship".
"Rubinstein is trying to get back at us because of protests we organized against him over Jonathan Pollard, when he served as an Israeli delegate in Washington," said Marzel.