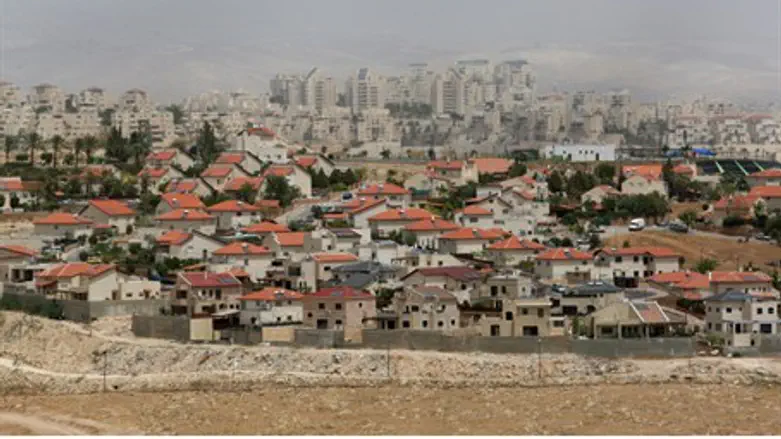 Ma'aleh Adumim
Israel news photo: Flash 90
Israel has invited tenders to build 92 homes in Maaleh Adumim, east of Jerusalem, sending a clear message the government means what it says.
Maaleh Adumim is the largest city in Judea and Samaria but is referred to as a "settlement" by mainstream media and most of the international community.
"There is a new tender for 92 housing units in Maaleh Adumim," Peace Now spokeswoman Hagit Ofran told AFP, saying the invitation to tender had been approved in October ahead of the UN vote on upgrading the status of the Palestinian Authority.
The European Union issued fresh condemnation of Israel on Monday for reviving construction plans, particularly the E1 project that would bring Maaleh Adumim closer to Jerusalem.
Prime Minister Binyamin Netanyahu's announcement that Israel would build 3,000 more homes for Jews in Jerusalem, Judea and Samaria was in response to a UN decision to grant the Palestinians observer non-member state status.
The European Union expressed "dismay" at the Israeli reaction, while Foreign Minister Avigdor Lieberman chastised foreign leaders for trying to make a case that the plans block the "peace process" while the Palestinian Authority is going ahead to reunify with the Hamas terrorist organization.
Peace Now and leading center-left Israeli media have tried to link the new building plans with Prime Minister Netanyahu's election campaign.
"This is part of the Netanyahu government's offensive to try and create before the election as many facts on the ground as possible to create an obstacle to any peace agreement," Ofran said.
The Palestinian Authority has called the construction of homes for Jews a "war crime."
The Netanyahu government so far has held its ground against the tidal wave of incorrect media coverage and foreign leaders' charges that the construction plans for E-1 would cut totally separate Arabs in Samaria, north of Jerusalem, from Judea and the southern Hevron Hills, south of the capital. The truth is that without that construction, the Jewish city of Maaleh Adumim with 40,000 Israelis, would be cut off from Jerusalem.
The New York Times last week wrote, "Because of an editing error, an article last Saturday about Israel's decision to move forward with planning and zoning for settlements in an area east of Jerusalem known as E1 described imprecisely the effect of such development on access to the cities of Ramallah and Bethlehem from Jerusalem.
"While development of E1 would limit access to Ramallah and Bethlehem to narrow corridors far from the Old City and downtown Jerusalem, it would not completely separate those cities from Jerusalem."
The "correction" also is slanted, because the "narrow corridor" is essentially the same highway that exists today and all Israeli governments, including those led by Prime Minsters Yitzchak Rabin and Ehud Olmert were in favor of construcion in the E-1 area.