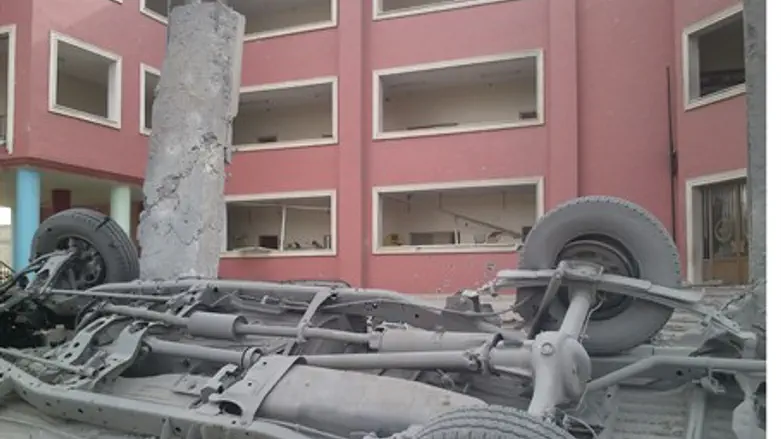 Air strike in Damascus suburb Akraba
Reuters
Syrian opposition forces captured a military air field, as well as the army's 22nd Brigade air defense base, both just outside Damascus.
The capture, accomplished by the Free Syrian Army, was described by the pan-Arab Al-Arabiya news network as "an important military achievement."
Rebel forces have also cut off a sprawling military base outside of Aleppo. Some 450 loyalist soldiers have been trapped inside since Tuesday with their water supply shot out. But rather than simply leveling the base, rebel spokesman Ali Jadian told the U.S.-based CNN news network the opposition wanted to give them a chance to defect.
As rebel forces close in on President Bashar al-Assad, the likelihood grows exponentially that he will lose control over the thousands of various types of lethal weapons stockpiled across the country -- a concern that has become the primary focus of the international community, and especially the nations bordering Syria - including Israel.
On Tuesday NATO approved Turkey's request for deployment of a Patriot anti-missile defense system along its border with Syria. "Today NATO agreed to augment Turkey's air defense by deploying Patriot missiles to Turkey," said NATO Secretary-General Anders Figh Rasmussen. "Turkey has asked for NATO's support and we stand with Turkey in the spirit of strong solidarity. To the Turkish people we say we are determined to defend you and your territory. To anyone who would want to attack Turkey, we say, 'don't even think about it.'"
Fierce fighting between Syrian government forces and rebel factions has spilled over into every country along Syria's borders.
Turkey has scrambled fighter jets several times to return fire when Syrian Army artillery has aimed at Turkish villages. Likewise, Israeli Defense Force soldiers have returned fire under similar circumstances in recent weeks.
On Wednesday, a refugee camp in the Damascus area was "showered by mortar shells, leaving between eight and 12 dead, including children and a teacher," according to Alexia Jade, a spokeswoman for the opposition in the capital.
"I cannot say if this area was state loyal," she told CNN, but noted that it was inhabited by refugees from the Golan Heights whose relatives had suffered from government shelling in southern Damascus.
It was not clear who had fired the mortars.
As the clashes in the capital have further chipped away at the few loyalists who remain in Assad's administration, concerns are also growing over Syria's chemical weapons arsenal.
United Nations Secretary-General Ban Ki-moon urged the Syrian regime on Wednesday of "huge consequences" if it should decide to use such weapons of mass destruction (WMDs). "I again urge in the strongest possible terms that they must not consider using this kind of deadly weapons of mass destruction," Ban said on the sidelines of conference he is attending in Qatar. "I have warned that if in any case these should be used, then there will be huge consequences."
Among the chemical agents believed to be held in Syria's stockpile are mustard gas, a blistering  agent, and the lethal nerve agents VX and sarin, according to various analysts. Engineers working for Assad's regime have begun combining the two chemical precursors needed to weaponize sarin gas, an American official with knowledge of the situation told Wired.com's 'Danger Room' on Monday.
Rasmussen echoed the warnings from U.S. President Barack Obama that the Syrian government may indeed be considering using such weaponry to end the conflict.
"We know that Syria possesses missiles. We know they have chemical weapons and of course, they also have to be included in our calculations," the NATO chief told reporters. "This is also the reason why it is a matter of urgency to ensure effective defense and protection of our ally Turkey."
At least 155 people were killed in Syria on Tuesday, according to the Local Coordination Committees of Syria activist group.