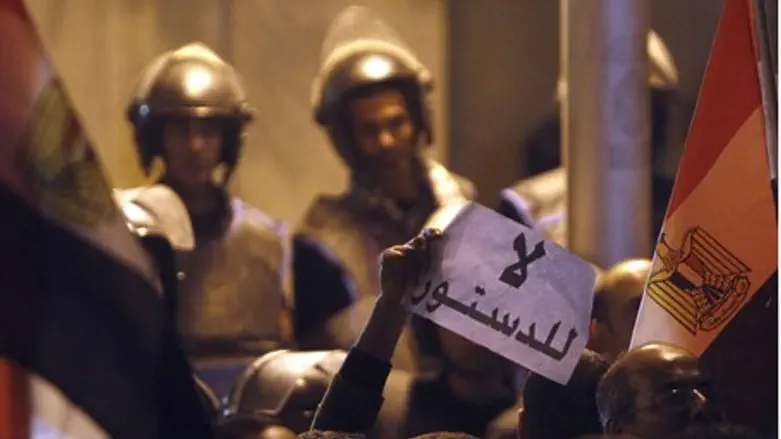 Egyptian police protect palace, sign reads 'N
Reuters
Egyptian President Mohamed Morsi reportedly returned Wednesday morning to his palace after violent protesters left the area.
Traffic is reportedly flowing in a routine pattern around the Heliopolis district in Cairo, which Tuesday night was jammed with rioting demonstrators.
At least 100,000 protesters clashed with police in Tahrir Square and around the presidential palace walls. Security personnel were unable to keep them at bay with tear gas in a growing crisis over the decree issued by the Egyptian president that granted his office wider powers. Morsi has also rammed through a new Islamist-backed Constitution, which is expected to go to a national referendum on December 15. 
The declaration places the authority of the president over that of the judiciary, enabling him to overrule decisions of the court.
One of Morsi's first moves following enactment of the decree was to replace the head prosecutor whom he had failed to oust the previous month. He also ordered "new investigations and retrials" in the cases dealing with the 2011 deaths of the January 25 Revolution protesters, a decision that could see currently imprisoned former President Hosni Mubarak, whose regime was toppled in the revolution, reinvestigated.
A video posted online by the Egyptian news network Rassd Tuesday night showed a convoy leaving the palace through a riot police cordon as protesters chanted, "Coward!" and "Leave!" reported AFP. Anti-Morsi protests also erupted in the Mediterranean city of Alexandria and in the central province of Sohag.
A presidential official who spoke on condition of anonymity told Fox News Tuesday night that Morsi was advised by security personnel to leave the palace through a back door as the mob grew. He said it was believed the move would be best in order to calm protesters and head off "possible dangers." Morsi's official spokesman said, however, that the president left through the door he normally uses, at the end of his work day.