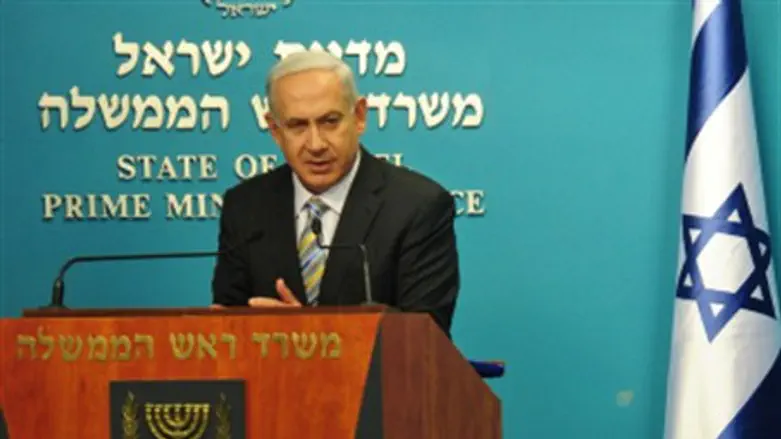 Netanyahu
Flash 90
Israel is closely monitoring Syria's potential use of chemical weapons, Prime Minister Binyamin Netanyahu said on Tuesday.
Speaking at the National Public Diplomacy Forum, which convened to summarize Operation Pillar of Defense, Netanyahu said, "Together with the international community, we are closely monitoring developments in Syria regarding its stores of chemical weapons."
"I heard President Obama's important remarks on this issue and we are of the same mind, that such weapons must not be used and must not reach terrorist elements," he added.
An American official said on Monday that engineers working for President Bashar al-Assad's regime had begun combining the two chemical precursors needed to weaponize sarin gas.
International observers are now more worried than they've even been that the Damascus government could use its nerve agent stockpile to slaughter its own people, the official told Wired.com.
U.S. President Barack Obama later warned Assad not to turn chemical weapons on his own people,
"Today, I want to make it absolutely clear to Assad and those under his command, the world is watching, the use of chemical weapons is and would be totally unacceptable," Obama said.
"If you make the tragic mistake of using these weapons, there will be consequences and you will be held accountable," he added.
Several hours before Obama's warning on Monday, the Damascus government promised that it wouldn't use chemical weapons against its own people.
In a statement broadcast on government-run national television, the country's foreign ministry assured the international community that Assad would not approve such a measure.
"In response to the statements of the American Secretary of State, who warned Syria against using chemical weapons, Syria has stressed repeatedly that it will not use these types of weapons, if they were available, under any circumstances against its people," the statement said.
The statement came following one by U.S. Secretary of State Hillary Clinton, who said earlier in the day, "This is a red line for the United States. I'm not going to telegraph in any specifics what we would do in the event of credible evidence that the Assad regime has resorted to using chemical weapons against their own people. But suffice to say we are certainly planning to take action."
Israel has expressed concern that the chemical weapons arsenal maintained in Syria will indeed end up in the wrong hands – specifically, the hands of Hizbullah or other terrorists who aim to annihilate the Jewish State.