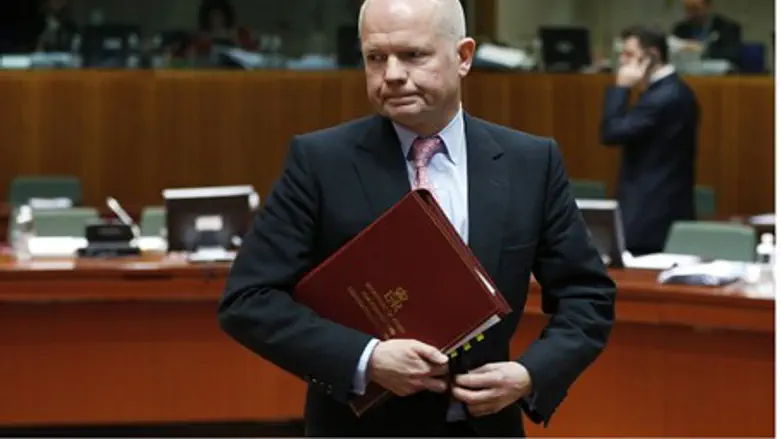 British Foreign Secretary Hague
Reuters
The European Union is unlikely to use trade sanctions to penalize Israel over its plans to build new Jewish homes in Jerusalem, Judea and Samaria, British Foreign Secretary William Hague said on Tuesday.
Hague repeated his condemnation of the "illegal settlements on occupied Palestinian territory" and urged Israeli politicians to "listen very carefully" to international diplomatic pressure on the issue.
However, in response to whether he believes the EU should put "economic muscle behind our protestations", Hague responded by saying , "I don't think there is enthusiasm (for that) around the European Union."
"I don't believe there would be anywhere near a consensus, nor is that our approach. We continue to try to bring both sides back into negotiations," he told lawmakers, according to AFP.
"Nevertheless if there is no reversal of the decision that has been announced we will want to consider what further steps European countries should take and we will be discussing that," he said.
"I think it's highly unlikely that wider economic measures in any direction are going to contribute to peace in the Middle East," he added, in response to further inquiries.
Australia and Brazil followed scores of European countries on Tuesday in condemning the Jewish state, summoning the Israeli ambassadors in their respective capitals to protest the plan.