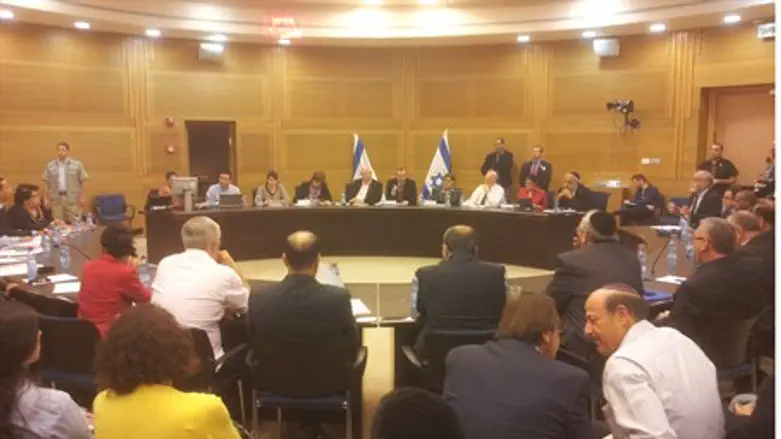 Knesset House Committee
Hezki Ezra
The Knesset's House Committee approved on Monday evening the request by seven members from Kadima to split from the party and join the new party headed by former Kadima chairwoman Tzipi Livni.
The request was submitted by MKs Shlomo Molla, Rachel Adato, Orit Zuaretz, Majalli Wahabi, Yoel Hasson, Robert Tiviaev and Meir Sheetrit. It was approved by a majority of six to four.
The move allows the seven MKs to transfer their funding to the new party.
The Knesset's Legal Adviser, Eyal Yinon, said during the discussion, "The House Committee is not entitled to reject a request for a split for reasons that do not pertain to the fulfillment of conditions, and when seven members of the Kadima faction asked, in writing, to split the faction, the requirement as stipulated in the law of the Knesset is fulfilled and the House Committee must approve it."
Livni announced last week that she will be forming a new centrist party, The Movement. She has already been joined by former Labor chairman Amram Mitzna, who officially announced he would be running with Livni on Sunday.
Also rumored to be joining The Movement is former IDF Chief Education Officer Elazar Stern.
Stern, although religious himself, has raised the ire of the religious Zionist community in the past, with his support of the Disengagement, as well as a decision he made in 2007 barring soldiers in Hesder yeshivot from serving in Golani and Paratroopers units, seen as an attempt by Stern to disband the yeshivot.
The ban was quietly lifted when Stern stepped down as Head of IDF Human Resources Directorate in 2008.
Livni is hoping to take seats from the Likud Beytenu in the January elections, but so far it appears as though her decision to form a new party rather than accept offers to join Labor or Yesh Atid (Future) is actually a gift for Prime Minister Binyamin Netanyahu.
A poll released last week found that if elections were held today, Livni and her party would win a grand total of seven seats, all at the expense of Labor, which dropped by five seats in the polls, and Yesh Atid, which also is down five seats from previous polls.
The Likud Beytenu would win 40 seats, according to the poll.