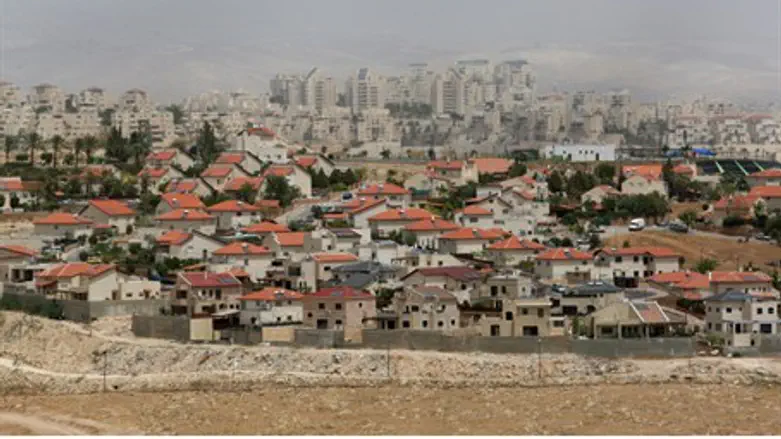 Ma'aleh Adumim
Israel news photo: Flash 90
France and Italy say they're "not ready" to "start thinking in terms of sanctions" against Israel for approving new housing construction - and Israel is standing firm on its plans to go forward with plans to close the gap between Jerusalem and Maale Adumim, despite the veiled threats.
Both governments denied reports they planned to recall their envoys from Israel. "We don't want to shift into sanctions mode," said French President Francois Hollande in a news conference Monday with Italian Prime Minister Mario Monti in Lyons. "We are more focused on persuading. It's an important moment, but I appeal for responsibility."
Israel, meanwhile, will not give in to international pressure to halt plans to build the new homes, a source in Prime Minister Binyamin Netanyahu's office said Monday.
"We continue to insist on our vital interests, even under international pressure," the source said. "There will be no change in the decision that has been made." One day after the United Nations voted to grant nonmember observer state status to the Palestinian Authority, Israel's government approved 3,000 new housing units in various locations – including in a disputed 5 km (3 mi) long area between Jerusalem and the suburb of Maale Adumim known as "E1".
"The Palestinians' unilateral initiative at the U.N. was a blatant violation of agreements which were guaranteed by the international community," the PMO source added. "If the Palestinians continue with their unilateral measures, we will act accordingly."
Plans for housing in "E1" have long been sitting on hold due to diplomatic pressure from Washington.
Building on the site would close the gap between the capital and its eastern suburb but would enrage the Palestinian Authority, which contends the move kills any hope of creating a contiguous PA state by bisecting the territory from north to south. It would also sever the  PA-controlled areas from Jerusalem, thereby increasing security and control over who enters the Israeli capital and who does not.
However, the PA has vowed to take more than a third of Jerusalem for the capital of its planned state.
Governments of United Nations Security Council permanent members Russia, Britain and France, as well as Denmark and Sweden all summoned Israeli ambassadors to express "deep concern" and call for reversal of the construction plans.
U.N. Secretary-General Ban Ki-moon warned Sunday that "Settlements are illegal under international law and should the E1 settlement be constructed, it would represent an almost fatal blow to remaining chances of securing a two-state solution."
But Ban's reference to "settlements" includes veteran Jerusalem neighborhoods such as Ramat Eshkol and Gilo, which have existed for more than 40 years. The city of Maale Adumim is home to more than 30,000 people. The population of Efrat, another Jerusalem suburb, is nearly that large. Both are also called "settlements" by the U.N., as are numerous other similar towns and cities throughout Judea and Samaria.