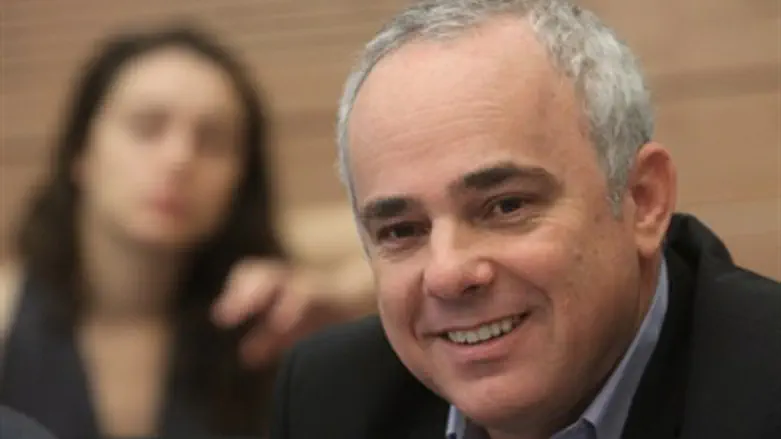 Yuval Steinitz
Israel news photo: Flash 90
Israel has decided to withhold taxes collected for the Palestinian Authority that were to be transferred later in the month. Finance Minister Yuval Steinitz made the announcement Sunday morning at the weekly government Cabinet meeting in Jerusalem.
The move is being made in response to the United Nations vote to approve a new status for the PA as a nonmember observer state -- in effect, recognizing the PA as a de facto sovereign state. It allows the PA access to numerous U.N. agencies, and to the International Criminal Court at The Hague.
"This was a Palestinian provocation and an attempt to advance their state without recognizing Israel," Steinitz said. "We said it would not pass quietly," he reminded.
Steinitz said the funds would be used instead "to offset the PA's electricity debts."  Gaza derives at least 40 percent of its power from the Israeli electricity grid; the PA-controlled areas of Judea and Samaria derive 100 percent of their electricity from Israel.
It also circumvented the mandate for final status negotiations with Israel as required by the internationally-recognized Oslo Accords signed by the PA and Israel in the 1990s. By abrogating that agreement, there now exists a legal question as to whether or not the entire document is null and void – including the Paris Protocols, the section delineating economic agreements between Israel and the PA.
In response, the day after the U.N. vote the Israeli government authorized construction of 3,000 housing units in "E1" - an area between Jerusalem and Maale Adumim - as well as in other areas of Jerusalem, Judea and Samaria.
World leaders reacted with concern over the weekend, reiterating their stance that all areas of Jerusalem restored to the capital since the 1967 Six Day War, as well as all of Judea, Samaria and Gaza, are considered Israel's illegal gains internationally.
"It is high time that Jerusalem is connected to Maale Adumim," continued Steinitz in his remarks on Sunday. "We told the U.S. that if the Palestinians would go to the U.N. there would be repercussions."
The PA has already threatened to use its new U.N. status to file lawsuits against Israel "should it engage in aggression." The vaguely worded threat is deliberately intended to blunt the Israeli security measures that protect its citizens from the terrorism that emanates from the Palestinian Authority.