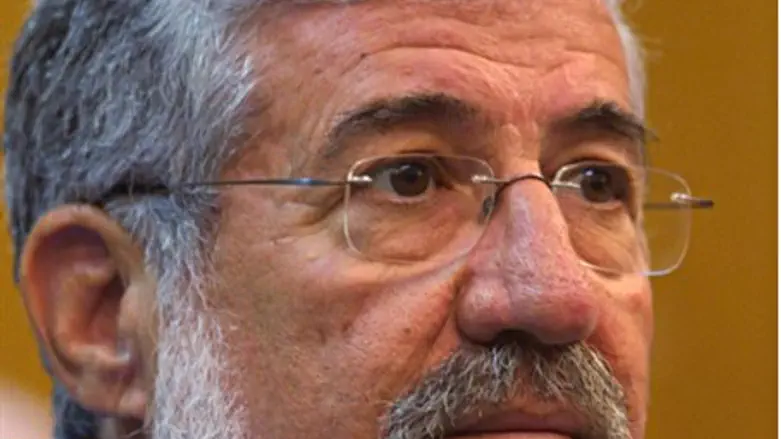 Amram Mitzna
Flash 90
Former Labor chairman Amram Mitzna has decided to join The Movement headed by Tzipi Livni, it was reported Saturday.
Mitzna will hold a press conference on Sunday during which he will announce that he will be running with Livni. According to the agreement between the two, Mitzna will be number 2 on the party's list and will serve as Livni's deputy.
Mitzna was head of the Labor party from 2002 and 2003, and previously served as mayor of Haifa for ten years. As head of Labor in 2003, he lost the election to Ariel Sharon as Labor only won 19 seats. He resigned from the party's leadership shortly afterward. Mitzna attempted to make a comeback last year and ran for the Labor leadership but lost in the first round, receiving only 12% of the votes.
The Labor party said in response to Mitzna's joining Livni, "Mitzna ran a year ago in the Labor party and failed miserably when he came in last among all the contestants. Especially after the holiday of democracy at the Labor party, in which tens of thousands of members chose their representatives for the Knesset, it is unfortunate that people who supposedly represent clean politics do not accept the decisions of the voters and refuse to participate in democratic elections."
The party accused Livni of making a wrong and harmful political move "which only plays in favor of Netanyahu." Polls have shown that Livni's new party will mostly take away votes from Labor and from the Yesh Atid (Future) party, and not from the Likud Beytenu.
Meanwhile, MK Amir Peretz, who occupies the Number Three spot in the Labor party's list for the Knesset, mounted an attack on party leader Shelly Yechimovich on Channel 2's Meet the Press Saturday.
He demanded that Yechimovich state clearly that she will never sit in the Netanyahu government, and insisted that she spell out a detailed plan for peace with the Palestinian Authority.
When asked if it was true that he was considering splitting off from Labor after the election along with six other MKs, Peretz would not confirm or deny this, but said that at this point he is trying to convince Yechimovich to take the steps he wants taken.
Labor presented its list for the Knesset on Friday after primaries that were a struggle between Yechimovich and Peretz, each promoting their own favored candidates. The list presented a shift to the left in the party, with candidates such as journalist Merav Michaeli and former social protest leader Stav Shaffir taking realistic spots in the top ten.