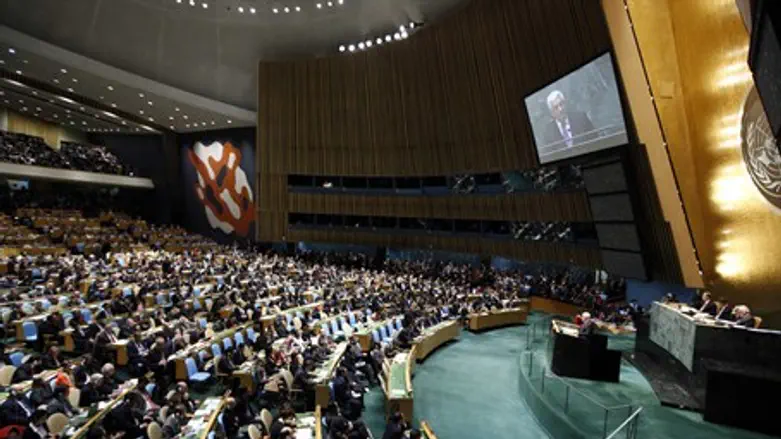 United Nations General Assembly
Reuters
The Czech Republic was the only European country that voted against the United Nations resolution on Thursday to recognize "Palestine" as a non-member observer state.
The resolution passed with an overwhelming majority of 138 votes in favor and nine against. 41 countries abstained.
In addition to Israel and the Czech Republic, other countries that voted against were the United States, Canada, Panama, the Marshall Islands, Micronesia, Nauru and Palau.
Among the 138 countries that supported the resolution were China, India, Russia and Japan and many European countries, led by France and Italy. Austria, Spain, Portugal, Norway, Denmark and Ireland were also among those countries that voted in favor.
French President Francois Hollande called for the resumption of negotiations between Israel and the PA "without conditions and as quickly as possible."
"Direct dialogue is in effect the only way to find a definitive end to this conflict. France is ready to contribute to it, as a friend, both of Israel and of Palestine," he said. France had voted in favor of the resolution.
Britain, Australia and Germany were among the 41 countries that abstained.
After the resolution passed, Palestinian Authority Arabs fired in the air, whistled and embraced each other in both PA-assigned areas of Judea and Samaria as well as in Gaza.
Prime Minister Binyamin Netanyahu's Office responded to the passing of the resolution, saying that "This is a meaningless decision that will not change anything on the ground. Prime Minister Benjamin Netanyahu has made it clear that there will be no establishment of a Palestinian state without a settlement that ensures the security of Israel's citizens.