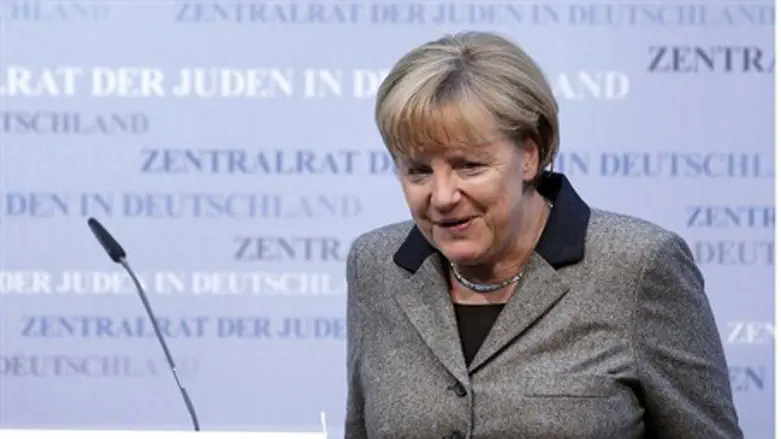 German Chancellor Angela Merkel at a council
Reuters
It won't be a unanimous vote for the Palestinian Authority bid for nonmember observer state status at the United Nations on Thursday. Not quite.  
The United States, Canada and Israel will oppose the resolution, but few others have stated any intention of doing so.
Most have already said they will support the PA declaration of de facto statehood via the nonmember observer state status -- a unique status granted by the world body thus far only to the Vatican, which unlike the PA has a centralized single government and is an entity with defined borders. The Palestinian Authority does not meet those criteria.
Germany announced Wednesday that it would not vote in favor of the bid to upgrade PA status at the U.N.
"We want to vote as closely as possible with our European partners," government spokesman Steffen Seibert told reporters. "It is, however, also certain that Germany will not accept such a resolution."
What was not certain was whether Germany would actively vote against the resolution, or whether Berlin would simply choose to abstain when it came time to cast the ballot.
Britain said it "remains open" to voting in favor of the resolution, right "up until the time of the vote itself," depending on what the PA decides to do.
Foreign Secretary William Hague said Wednesday that Britain would support PA Chairman Mahmoud Abbas in the vote on Thursday, if he would agree to participate in direct final status negotiations with Israel -- as mandated in the internationally-recognized Oslo Accords signed by the PA and Israel in the early 1990s.
In order to buy the British vote, Hague said the PA would also have to drop its pursuit of the International Criminal Court (ICC) jurisdiction over Judea and Samaria, and confirm publicly that the U.N. resolution would not apply retroactively.
"In the absence of these assurances," Hague warned, "the United Kingdom would abstain on the vote."