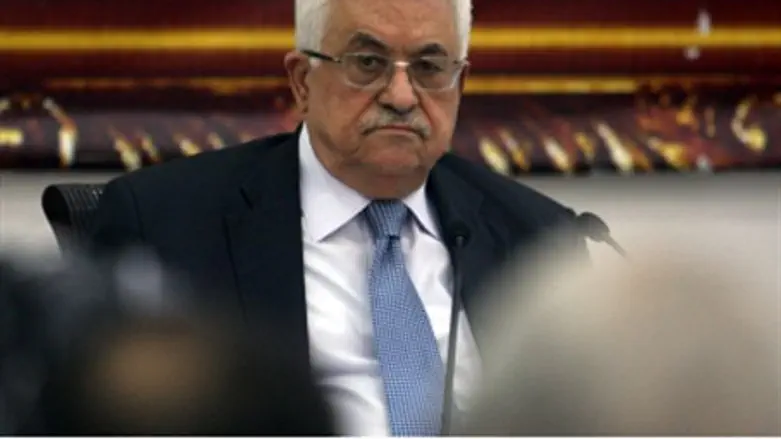 Mahmoud Abbas
Israel news photo: Flash 90
Palestinian Authority Chairman Mahmoud Abbas claimed Saturday the entity's renewed bid for United Nations membership is the "last chance" for Arab peace with Israel.
The PA is hoping to create an independent, sovereign state in Judea, Samaria, Gaza and parts of Jerusalem that were restored to the Jewish capital in the 1967 Six-Day War. Previous efforts to evade the necessity of final status talks with Israel through application for membership in the United Nations have been stymied by Western nation, led by the United States.
Speaking with students at his headquarters in the PA capital of Ramallah, Abbas said, "The Palestinian side is ready to return to the negotiating table as soon as getting the Palestinian state's membership. This might be the last chance for making peace in the Middle East before time goes," he added.
As head of the Palestine Liberation Organization (PLO), which represents the PA to the United Nations, Abbas plans to apply for status as a non-member state.
"There is nothing preventing us from obtaining the incomplete membership in the United Nations," Abbas insisted.
Such a designation would create a de facto recognition of the PA as an independent, sovereign country. It would also successfully circumvent the final status negotiations with Israel mandated by the internationally-recognized 1993 Oslo Accords signed by both parties.
Final status talks between Israel and the PA ground to a complete halt when Prime Minister Binyamin Netanyahu entered office. In subsequent months, under pressure from the United States the prime minister froze Jewish construction in Israeli towns in Judea and Samaria for ten full months. But the initiative, hugely unpopular among Netanyahu's constituency, resulted in nothing more than three preliminary meetings during which Abbas was unwilling to negotiate on any point without preconditions. Among the points on which Abbas refused to budge was the insistence on a further freeze on any building in existing towns in Judea, Samaria and parts of Jerusalem restored to the city in the 1967 Six-Day War.
Abbas said Saturday that he hoped U.S. President Barack Obama would keep a promise he claimed was made in 2009 to maintain "his opposition to the settlement building on Palestinian land" and supporting the "two-state solution."
The PA chairman said Saturday he would submit the PA request for the status on November 29.