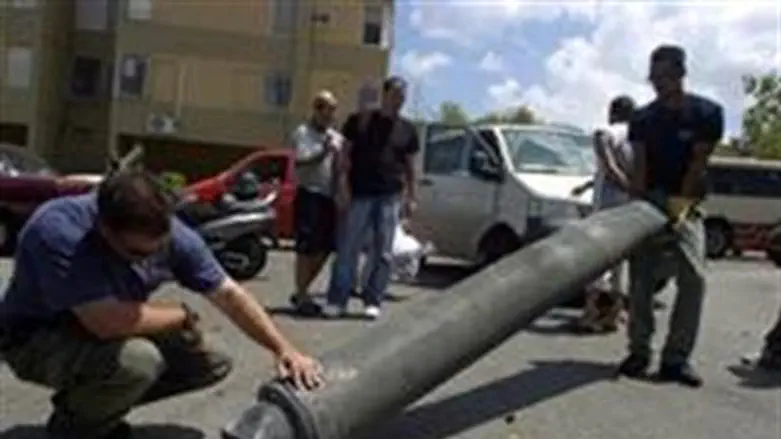 Katyusha missile
Israel news photo: Flash 90
Egyptian security personnel have seized arms and ordnance headed for Gaza, including Grad Katyusha missiles. Sources quoted in the Egyptian daily newspaper Al-Masry al-Youm reported Wednesday that a gang of three attempted to smuggle warheads and ammunition through the Sinai Peninsula.
The shipment was picked up when the three smugglers were ambushed at the seaport town of Marsa Matrouh, a major tourist town on the main highway from the Nile Delta to the Libyan border. It has become a drop-off point for weapons flowing into Gaza from Libya, many of which have been seized by Egypt over the past year. Some of that ordnance has included surface-to-air missiles, rockets and anti-aircraft weaponry which are smuggled into Gaza via the Sinai, through the underground tunnel network.
All three suspects were Egyptian, and fled into the surrounding desert when security personnel set upon them, leaving behind their shipment, sources said.
The consignment contained 108 Grad Katyusha missile warheads and 19,646 rounds of ammunition, the newspaper reported. Quoting unnamed security sources, the report said the shipment was likely destined for Gaza, but possibly could have also been headed for terrorist buyers in the Sinai Peninsula. 
Iran has sent weapons via its Lebanon-based proxy, Hizbullah, which has bases in the Sinai as well. In fact, Tehran boasted that Hamas was still receiving weapons as recently as last week, during Israel's 'Pillar of Defense' counter terror offensive against Gaza. The Beirut-based newspaper Al-Akhbar confirmed the report on Monday.
Much of the ordnance originates in Iranian ports. It is smuggled into Sinai, and then through the tunnels to Gaza via Sudan, in convoys that have been attacked several times in aerial raids over the past year. Iran's Revolutionary Guards have also been coordinating the shipments with the Syrian Army and Hizbullah out of Syria's port at Latakia. They are later received at the tunnel end by Hamas, which until recently also maintained an office in Damascus.
Cairo has said it is working to regain control over the lawless Sinai Peninsula which is currently a haven for terrorists of all stripes, and which is essentially ruled by the Bedouin tribes who live there.