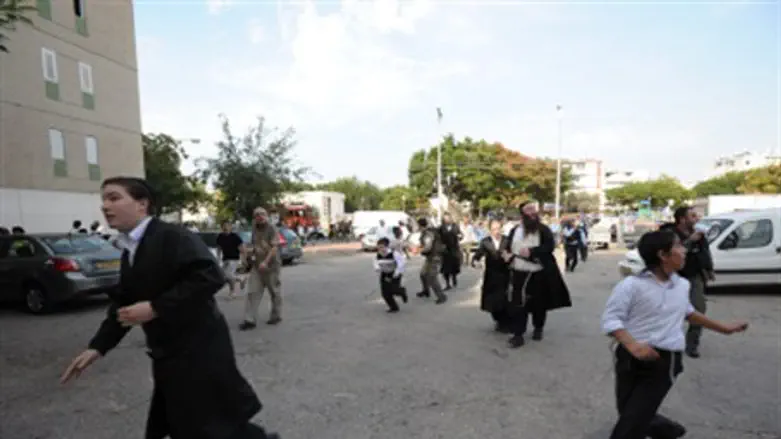 Running for shelter in Ashdod
Israel news photo: Flash 90
The IDF deployed its fifth Iron Dome anti-missile battery to protect the Tel Aviv area Saturday, and the battery went into action immediately, intercepting a rocket fired from Gaza. A second rocket fired at the greater Tel Aviv area was not intercepted, however. It struck an empty area, causing no casualties or damage. Terrorists said the rocket fired at Tel Aviv was a Fajr-5 rocket (see video below).
Hamas also fired a rocket at Jerusalem Friday afternoon. A siren sounded in the holy city but the rocket fell in an empty open area in the Etzion Bloc (Gush Etzion) south of Jerusalem. causing no injuries or damage. The Jerusalem area has many Arab communities, such as Bethlehem and Beit Jala which are in Gush Etzion, as well as the Al-Aksa mosque on the Temple Mount.
The Hamas government headquarters building has been leveled by the IAF. So have the Gaza police station and the Interior Security headquarters.
The IDF Spokesman announced Saturday afternoon that since Operation Defensive Pillar began Wednesday, 832 terror targets have been attacked from the air and the sea.
Iron Dome intercepted 239 rockets and 434 rockets struck Israel, 30 of them in populated places.
Iron Dome has had a 90% success rate in interceptions, according to an IDF assessment.
IDF Chief of Staff Lt. Gen. Benny Gantz convened a situation assessment meeting at the Kirya base in Tel Aviv Saturday and instructed the military to continue attacking in full force, and to step up the pace of the attacks on terror targets.
Over 120 underground missile launchers and 20 smuggling tunnels have been destroyed. 
A senior Iranian official has denied his country supplied the Fajr 5 missiles which Palestinian terrorists have been firing at Tel Aviv, Iran's Al-Alam television reported on Saturday. "We deny having delivered the Fajr 5 to the Palestinian resistance. The aim of such accusations is to portray the resistance as weak whereas it is perfectly capable of producing the arms it needs," said Allaeddine Boroujerdi, head of parliament's foreign affairs committee. 
A missile fired at Tel Aviv Friday was reportedly not a Fajr-5 but a missile produced by the Arabs of Gaza on their own.
This video shows the fifth Iron Dome battery, which was deployed in the Tel Aviv area: