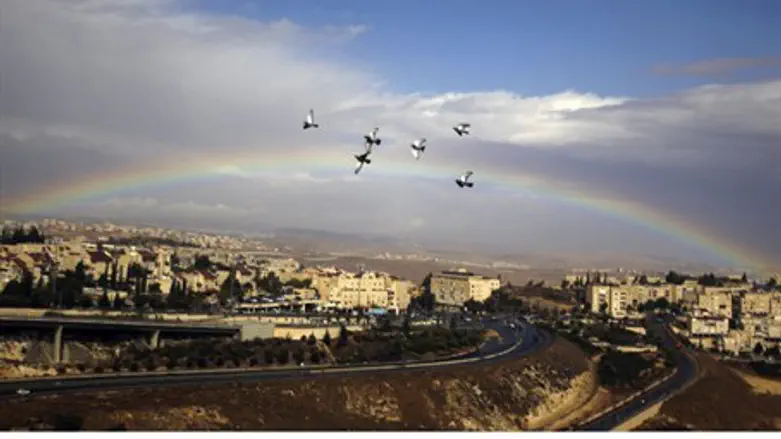 The surrounding Jerusalem area
Reuters
For the first time since the Hamas terror organization took over Gaza and began firing their barrage of rockets towards Israel, an air raid siren was sounded in Jerusalem and the surrounding area late Friday afternoon. Just one day after terrorists successfully shot off a long-range missile aimed at Tel Aviv, it seems Israel's capital city is Hamas's next target. 
Hamas immediately took credit for the attack, claiming to have shot "an improved Kassam," according to Channel 2. The launch represents the first Hamas rocket attack aimed at Jerusalem.
Reports are surfacing that the rocket hit the Judea and Samaria area of Gush Etzion, ten minutes south of Jerusalem, Israeli police said on Friday, with the army reporting no injuries or damages.
"Preliminary information shows that a rocket fell in Gush Etzion in Judea and Samaria and police are on their way over there," Israel's Reshet Bet radio reported.
The army confirmed that a rocket fire from Gaza had landed "outside of Jerusalem" but would not specify further at the time this article is being written.
Rockets aimed at Jerusalem can easily hit the Al-Aksa mosque on the Temple Mount, Bethlehem and other Arab communities near the city.
Residents of the Jerusalem area, who are not used to hearing air raid sirens, were obviously shaken. Jerusalem's Mayor Nir Barkat urged residents to listen to Home Front Command orders and to carry on with routine life.
"The municipality is prepared for all scenarios, and the public bomb shelters are ready in case we need to open them," he told the radio channel. 
Meanwhile, residents in Tel Aviv reported hearing a loud blast a short time after sirens were sounded Friday afternoon.
Security services are searching for the impact site. According to initial reports, at least one rocket hit an open area in the Gush Dan region.

No injuries have been reported.
Hamas has claimed responsibility for the attacks.
The city of Tel Aviv has decided to open its bomb shelters, as because the city has not experienced a direct rocket hit in twenty years many bomb shelters remain locked to keep out the homeless and stray animals, and many others are used as storage facilities. City workers are going from shelter to shelter to open the doors in case of further attacks.

The cities of Be'er Sheva, Ashdod, Ashkelon and Ofakim repeatedly came under attack Friday. The Iron Dome defense system shot down several rockets and no one was hurt.

One rocket hit and demolished a home in a community near Gaza, but did not cause injury as the residents were not at home.